OUR LAWYERS FIGHT INJURY CASES AGAINST WALMART IN MN
Wal-Mart's slogan is "Always Low Prices." We have to admit that Walmart offers good value on their products, and often has the lowest prices. However, every year there are many accidents where people are injured at a WalMart store, and our lawyers have had to sue them a number of times. It may be that part of the way they save money is by skimping on store safety and customer safety, or it may be that they pay lower wages and their employees just don't pay as much attention or get enough training on customer safety.  Mostly the reason for injury at Walmart is that they have a very high volume of traffic and their employees will inevitably sometimes make mistakes.  Whatever the reason, you have to be careful when you shop at a Wal-mart store.
Our accident attorneys have handled many cases where people are injured at a Wal-Mart or other stores in MN. Our lawyers represent people in slip and fall cases, trip and fall injury cases, situations where something fell on a customer, and many others. Often, the store will say that it is the customer's fault for not watching where they were going or being more careful. However, the law in Minnesota law also requires the STORE to be careful because the store should know that its customers are being distracted by the products and displays (THE STORE IS DESIGNED TO GET YOU TO LOOK AT THEIR PRODUCTS AND DISPLAYS SO YOU WILL BUY MORE) and will be less likely to see obstacles and hazards that the store may have left out.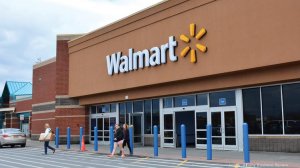 Our MN store injury lawyers take cases where there has been a serious injury, usually involving surgery, and where there is something unusual about the situation that caused the injury. For example, an attorney represented a client where a pallet was left at the corner of a shopping isle and our client turned the corner and tripped on it. A lawyer in our office recently settled a case against Wal Mart where the store used an entry rug that was not secured, so it would frequently get bunched up and our client tripped and was seriously injured. Our lawyers have also handled many slip and fall cases at a store where our client fell in the parking lot because the store did not salt the ice or in the store because they did not clean up a spill.
If you or a family member are injured in a slip and fall accident at a Walmart store, or if you tripped and fell or were injured in another way at one of the Wal-Mart stores in MN, please make sure that you get lots of photos of the area where you fell or were injured and get the names and contact information of any witnesses. Then please call our office and speak with an injury lawyer in MN as soon as possible so that we can investigate your case and explain your rights to you. An experienced accident attorney will investigate your case and give you an honest answer about whether it is worth pursuing. If we can take your case, our primary focus is to make sure you are treated fairly and get complete compensation for your injury.
Pam Rochlin is one of Minnesota's few women personal injury Super Lawyers and was formerly a partner at Meshbesher and Spence. We have over 25 years' experience handling hundreds of accident injury cases. Our MN accident lawyers will provide you with a free initial consultation, and there is no fee if no recovery.
We have big firm experience but provide small firm attention. We have offices in Edina, Minneapolis, Woodbury, and St. Louis Park. An injury attorney will also meet your at your home to discuss your case if you were injured at a Walmart store in Bloomington, Richfield, Burnsville, Chanhassen, White Bear Lake, Forest Lake, Anoka MN, Maple Grove, Eden Prairie, Plymouth, Edina, St. Paul MN and other surrounding cities throughout Minnesota.
Click here for more information about what to do if you are injured at a store in MN.