SNOWMOBILE ACCIDENT – MN LAWYERS
Snowmobiling is a great sport, and our family rides together every year. Unfortunately, there are also snowmobile accidents in Minnesota every year. In the winter of 2012 – 2013, the Minnesota Department of Natural Resources reported eight snowmobile fatal accidents and 160 snowmobile accidents where a rider was injured. Those were just the reported injury accidents, many snowmobile accident injury cases in MN are not even reported to the DNR.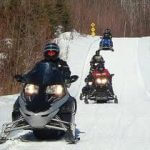 TYPES OF SNOWMOBILE ACCIDENTS IN MN
Of the eight MN snowmobile accident cases where someone was killed in 2012 – 2013, there was alcohol or drugs involved in five of them. Only one of the eight death cases involved a snowmobile struck by struck by a car. The other seven were either because of a snowmobile falling through the ice or hitting a stationary object. The DNR does not break out causes of snowmobile accident injury cases, but in our snowmobile accident attorneys' experience, reckless driving resulting in tipping or the snowmobile crashing into a stationary object is the number one cause. However, our MN snowmobile accident lawyers also see too many cases where a snowmobile collides with another snowmobile or is hit by a car or truck.
YOUR RIGHTS AFTER A SNOWMOBILE ACCIDENT INJURY
Every year potential clients call our office to ask a lawyer what their rights are after they have been injured in a snowmobile crash in MN, either because their snowmobile was hit by a car or another snowmobile, or because they were a passenger on a snowmobile and the driver caused the accident. If you are hit by a car or truck on your snowmobile, our injury lawyers can make sure you are compensated by the driver's automobile insurance if they were at fault. You will also be entitled to No-Fault benefits for your medical bills and lost wages. If you are hit by another snowmobile or are injured because you are a passenger and your driver causes the accident, either from tipping or crashing, you may be entitled to compensation from the snowmobile driver's insurance on the snowmobile or possibly their homeowner's insurance. These cases usually require a thorough investigation, so you should call our office and speak with an experienced snowmobile accident attorney for a free consultation as soon as possible after the accident.
If you are driving your snowmobile and you cause the accident, you generally will not be able to receive any compensation. However, if there is an automobile involved in your snowmobile crash, you may be able to get no-fault automobile benefits to pay for your medical bills and lost wages – even though you were on a snowmobile and even though you were at fault. This is a complicated area of the law, so you should call one of our top MN snowmobile accident lawyers for a free consultation if you are on a snowmobile and are injured because of contact with a car or truck.
SNOWMOBILE ACCIDENT BECAUSE OF SOMEONE'S PROPERTY
Some snowmobile accidents are caused because of a defective or hidden condition on another person's property. Again, these are complicated cases that require a thorough investigation, so you should call our snowmobile accident injury lawyer in MN as soon as possible after your accident for a free consultation.
BEING HIT OR RUN OVER BY A SNOWMOBILE
There are also accidents where someone is run over or hit by a careless snowmobile driver or a drunk snowmobile driver. The insurance companies will usually try to place at least part of the blame on the person who was run over or hit by the snowmobile. Again, our snowmobile accident lawyers in MN have found that early investigation can be crucial to proving these cases and recovering for the victim's injuries.
Pam Rochlin and David Rochlin are Minnesota personal injury attorneys with more than 24 years' experience, handling hundreds of accident cases, including snowmobile accident injuries in MN and other recreational activities like boating and waterskiing. Pam was a former partner at Meshbesher & Spence, offering small firm personal attention to her clients. If you have been injured in a snowmobile crash, a lawyer can meet you to discuss your case at our offices in Edina, Woodbury and Minneapolis. Our snowmobile accident lawyers also meet people at their homes to discuss a snowmobile accident injury in St. Paul, Brainerd MN, Rogers, Elk River MN, St. Cloud MN, Maple Grove, Brooklyn Park, Chanhassen, Chaska, and other cities throughout Minnesota. We will always provide you with a free initial consultation and we never charge anything unless you receive compensation for your injuries.