Slip and Fall Injury Lawyers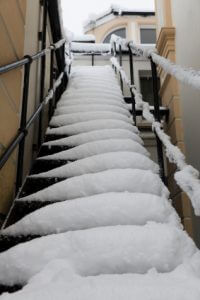 Many people are injured in Minnesota from a slip and fall accident every year. This often happens on someone else's property.  Contrary to popular belief, the property owner is not automatically responsible just because someone is injured on their property.  However, the property may be responsible for the slip fall injury if the property owner did something wrong. For example, if the property owner failed to remove the ice, or did not sand or salt the property.
Our slip and fall attorneys often hear the insurance companies say that our clients should have watched where they were going and been more careful. However, that is not always the answer. In some cases, businesses or homeowners allow snow and ice to build up or go without attention for too long. Sometimes, even the most careful person can be caused to fall and injure themself.  Unfortunately, many of these falls result in a serious and permanent injury. Our lawyers make sure people are fully compensated in these situations.
Experienced Minnesota Slipped and Fell Attorney
Our attorneys have 25 years' experience representing people injured in a slip and fall accident in MN.  Slip and fall cases are not easy. That is why many lawyers won't even consider them. Our firm does take slip and fall cases. However, the injury must be severe enough (usually requiring surgery) to justify the required commitment of time and money. Also, there must be something unusually bad about the area where the client fell. (Please get lots of pictures as soon as possible after the accident.)
When people call us to say that they slipped and fell and were injured, they really don't know if they have a case that can be successfully pursued. Of course, that is understandable. Our attorneys are always willing to provide you with a free consultation to discuss the details of your situation to see if you have a case. At a minimum, we can give you some advice on how to get your medical bills paid. If we can take your case, our MN slip and fall lawyers will get you the full compensation you are entitled to.
Other types of Slip and Fall or Trip and Fall Cases We Take
Of course, slip fall cases are not the only way people are injured on someone's property. Trip and fall accidents are also common and can happen any time of year – outdoors and indoors. Our lawyers frequently represent people who have been injured by falling at a store or business. For example, someone may fall because of liquid or some substance on the floor. Or, they fall because they tripped on something left on the floor like a pallet, or because of bad stairs, etc. For more information about these types of cases, see What happens if I am injured on someone else's property?
Because the law in Minnesota generally favors the business or homeowner over the injured victims of a fall, there are many law firms who will not handle slip and fall cases. At the Rochlin Law Firm, Ltd. our lawyers have handled numerous slip and fall cases to successful resolution in many cities throughout Minnesota. Pam Rochlin and David Rochlin are Minnesota personal injury attorneys with more than 25 years' experience. We have successfully helped hundreds of accident victims get fair compensation for their injuries. We provide big firm experience and small firm attention.
Please call us as soon as possible so that a top slip and fall accident lawyer can investigate your case and fully explain your rights to you. Our injury attorneys can discuss your slip and fall case at our offices in Minneapolis, St. Louis Park, Edina, and Woodbury MN. We also frequently meet people at their homes to discuss slip and fall injury cases in St. Paul MN, White Bear Lake, Forest Lake, Brooklyn Park, Maple Grove, Plymouth, Minnetonka, Rogers, Chanhassen, Chaska, Prior Lake, Apple Valley, and other cities throughout Minnesota.