BIKE RIDER HIT BY CAR CAN RESULT IN SERIOUS INJURY – MN ATTORNEYS
Minnesota is a state that encourages bicycle riders.  There are bike paths throughout the state, and many MN cities have bike lanes alongside the roads.  Click here to see the bike path system throughout MN. The Department of Transportation also has a "Share the Road" campaign designed to reduce the frequency of accidents where a vehicle hits a bike and injures the rider.  The DOT also has a video for bike riders to promote bike safety and hopefully avoid a tragic crash between a car and bicycle.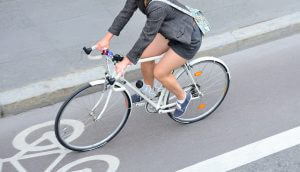 We encourage bicycle riders to ride carefully and obey traffic rules.  However, most cases of an automobile versus bike accident happen because the driver of the vehicle was not paying attention or was briefly distracted. Especially in the summer, it is crucial for automobile drivers to always watch out for bicycles on city streets.  (Motorcycles too.)
The greatest danger to someone riding a bike is a car making a turn or changing lanes without carefully looking.  Of course, if a vehicle driver is using their phone or texting while driving, their car can hit the bike even if the bike is directly in front of him.
INSURANCE BENEFITS FOR BICYCLE HIT BY CAR
When a car or truck hits someone riding a bike, the bike rider is often seriously injured.  At a minimum the bicyclist will have road rash. There can also be broken bones, a compound fracture, torn ligaments, a spinal injury, or a brain injury from the bike accident.
When a bicycle is hit by a car, there will be several types of insurance available to the injured bike rider.  First, the bike rider will be entitled to MN automobile No-Fault insurance coverage for medical bills and lost wages.  That insurance will usually come from the bike rider's own automobile insurance policy.  If the bike rider doesn't have auto insurance, it can come from any relative that the rider lives with. If there is no coverage there, then from the insurance of the car that hit the bike.
BICYCLE ACCIDENT INJURY COMPENSATION
This No-Fault insurance for the bike rider is typically limited to $20,000 of medical coverage and $20,000 of lost wages. If you have been injured in an accident where your bike was hit by a car while you were riding, call our office and speak with an experienced lawyer. We will explain the insurance issues to you in more detail.  You may also be entitled to additional compensation for your injury if the car was at fault for hitting you on your bike.  Our MN bike accident attorneys will focus on making sure you are fully compensated for your injuries This includes future medical bills, pain and suffering, and scars.
Often when a car hits someone riding a bike, there is a dispute about how the accident happened and who was at fault. The driver of the car will claim that the bike "came out of nowhere" or cut in front of the car. Our bicycle accident lawyers have experience with these issues. We make sure that a complete investigation is done of the accident so you are treated fairly by the insurance company.
EXPERIENCED MN BIKE ACCIDENT LAWYERS
If you are injured on a bicycle hit by a car in Minnesota, call us for a free consultation with an experienced personal injury lawyer.  Pam Rochlin and David Rochlin have more than 25 years' experience representing people injured in an accident riding their bike throughout Minnesota. Pam was the 2015 president of Minnesota Woman Lawyers and is a former partner at Meshbesher and Spence.
We will answer your questions and give personal attention to your case. A bike accident lawyer will meet with you at our offices in Edina, Minneapolis, Woodbury, and St. Louis Park.  A bike car accident attorney can also come to your home in St. Paul, Roseville, Stillwater, Forest Lake, Brooklyn Center, Brooklyn Park, Maple Grove, Plymouth, Chaska, Chanhassen, Anoka, Burnsville, Mankato, Albert Lea, and other cities throughout Minnesota.