REAR ENDED BY TRUCK – MN CAR ACCIDENT LAWYER
The Minnesota State Patrol reported that a 28-year-old Bloomington man was killed when the Chevrolet Camaro he was driving southbound on Highway 169 was struck from behind by a truck. There were about half a mile south of Interstate 494.  The State Patrol report says a Ford F-350 Superduty that had been trailing the Camaro approached the car as it decelerated in the right-hand shoulder. The truck hit the car and actually drove over it before overturning and coming to rest on its roof.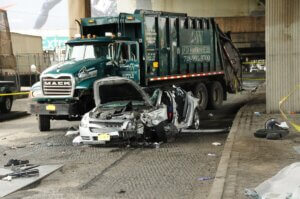 The Camaro came to rest facing northbound in the ditch and the driver was killed. The driver of the Ford truck sustained injuries that are not life-threatening. The report says it's unknown whether the car driver had been wearing a seatbelt when he was hit by the truck; it was also unknown whether alcohol played a role in the part of the driver of the truck that caused the rear end collision.
INJURY COMPENSATION LAWYERS MN
If you are injured in a car accident because your vehicle was rear ended by a truck or other large vehicle, please call us so that a top MN car accident attorney can explain your rights to you. At a minimum you will have the right to Minnesota No-Fault benefits, and you may also be entitled to compensation from the insurance company of the truck that hit you in the rear. An experienced MN car accident lawyer will also discuss how to get your car damage paid for.
Pam Rochlin and David Rochlin are Minnesota personal injury attorneys with more than 25 years' experience, handling hundreds of rear end truck and auto accident cases, including multi car collisions. Pam is a former partner at Meshbesher & Spence, offering small firm attention to her clients. A car accident lawyer in MN can meet you to discuss your rear ended by a truck accident at our offices in Edina, Woodbury and Minneapolis.
Our lawyers also meet people at their homes to discuss car accident injuries in St. Paul, Rogers MN, Elk River, Maple Grove, Brooklyn Park, Chanhassen MN, Chaska, and other cities throughout Minnesota. You will talk to and meet directly with a top car accident lawyer, not just a staff person from our office. We will always provide you with a free initial consultation and we never charge anything unless you receive compensation for your injuries.