CAR ACCIDENT LAWYER – PULLED OUT FROM PARKING LOT ONTO ROAD
This car accident occurred on July 23, a Friday, at about 12:30 p.m.  Kelly had gone to Qdoba in Chaska Minnesota, to pick up lunch for herself and her mother (it was her mother's birthday).  She was going to bring the lunches to her mother's business where they would eat together.
Kelly drove her car out of the parking lot and was on the side road that takes traffic to the main road.  At the same time, the other driver was exiting the parking lot of Home Depot.  The other driver had a stop sign requiring him to stop and yield to traffic on the side road. However, as Kelly was driving past the Home Depot parking lot, he suddenly pulled out onto the road and T-boned Kelly's vehicle.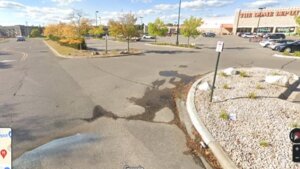 Kelly was on the through road, with no stop sign or traffic control device. She saw the other driver's vehicle stopped at the stop sign as she was approaching him. Therefore, she was completely surprised when he started to pull forward into her.  She tried to turn her car to avoid the collision, but there was not enough time. As a result of the crash, Kelly was seriously injured.
The Chaska Police responded to the crash and cited the other driver for failure to yield the right of way.  Surprisingly, the other driver still denied the accident was his fault. He claimed Kelly was speeding. Therefore, our car accident lawyer had to conduct additional investigation. We obtained the Event Data Recorder/Airbag Control Module from Kelly's vehicle. The Event Data Recorder showed that Kelly was not speeding prior to the crash and attempted to avoid the collision before impact.
CAR ACCIDENT LAWYER PAM ROCHLIN
There are many reasons a car accident lawyer is important after a crash in Minnesota. Sometimes, the other driver denies responsibility and the lawyer must prove it. However, more frequently, we handle complex insurance issues. The car accident lawyer will make sure the correct insurance company pays the medical bills. More importantly, we focus on getting you compensation for your injuries and future needs. If you have been injured in a car accident, call us for a free consultation. An experience lawyer will answer your questions and protect your rights.