CAR ACCIDENT LAWYERS – INJURY ATTORNEYS MINNESOTA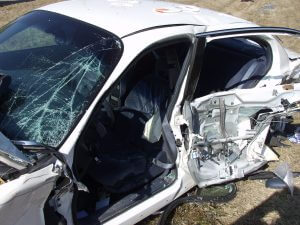 A Little Falls woman sustained serious injuries when she was involved in a three-vehicle crash. The accident happened just south of Royalton. The woman was the passenger in a vehicle when the crash occurred. Unfortunately, the Minnesota State Patrol described her injuries as "life threatening." At this point, we do not know her condition. 
The crash occurred at the intersection of U.S. Highway 10 and 55th Avenue Northwest, just south of Royalton in Benton County. According to the report, they were driving eastbound on Highway 10 in a 2003 Volkswagen Jetta. They went to make a left-hand turn onto 55th Avenue Northwest. At the same time, a 15-year-old juvenile driver from Breezy Point was westbound on Highway 10 in a 2017 Chevrolet Traverse.
The report states the two vehicles collided in the intersection. Both spun toward a 2018 Chevrolet Tahoe which was sitting at a stop sign on 55th Avenue. For now, the cause of the crash is still under investigation. However, driver inattention is usually a factor in these cases. Also, the inexperience of the teenage driver may have contributed. 
The woman was taken to North Memorial Hospital in Robbinsdale after she sustained life-threatening injuries. She was wearing her seat belt at the time of the crash. None of the other five people involved in the wreck were injured. All were wearing their seat belts, and the airbag deployed in the Traverse. The State Patrol listed that it was unknown if the airbags went off in the other two vehicles. Alcohol was not a factor.

The Minnesota State Patrol was assisted at the scene by the Benton County Sheriff's Office, Royalton Police Department, Royalton Fire Department, Mayo Clinic Ambulance and North Ambulance.
CAR ACCIDENT ATTORNEY – INJURY LAWYER COMPENSATION
The Rochlin Law Firm has helped hundreds of people injured in accidents throughout Minnesota. Pam Rochlin is repeatedly voted a Minnesota injury Super Lawyer. Our car accident lawyers have recovered millions of dollars for clients over the past 25 years.
Unfortunately, three car accidents are common, and often produce a bad injury for someone. Medical bills are always the starting point. However, the repercussions can be more than that. For example, the car accident victim may be out of work for an extended time. This puts stress on them and their family. Also, with many physical injuries comes a loss of ability to participate in household activities.
Our top car accident lawyers help with the insurance issues after a crash. Of course, sometimes there is a dispute about fault. However, in many cases fault is clear. Nonetheless, the insurance issues are difficult. Each vehicle and driver may have separate insurance, and we look at each of them to get full compensation for our clients.
If you have been injured in a car accident, call us for a free consultation. An experienced car accident lawyer will answer your questions. Our primary purpose is to protect your rights and make sure you get the compensation you are entitled to.