CAR ACCIDENT INJURY LAWYERS – SPEEDING CAN KILL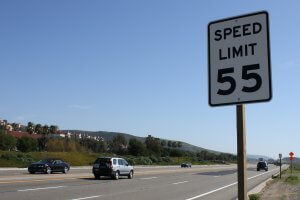 According to the Minnesota Department of Public Safety. a statewide extra enforcement campaign cracking down on speeding cars and aggressive driving begins today. It will run through July 22. Unfortunately, speeding is still a cause of many MN auto accidents. When a speeding car causes an accident, it also makes the damages and injuries worse. Our car accident attorneys have handled many cases where speeding was the cause of a crash resulting in a serious injury.
More than 300 law enforcement agencies are involved in the campaign to reduce cars speeding. While cost of tickets may vary across counties, drivers should expect fees around $110 for traveling 10 mph over the speed limit. Additionally, fines will double for drivers traveling 20 mph over the speed limit. Licenses could be revoked for six months for drivers traveling 100 mph or more, officials say.
Since the beginning of the year, 53 people have died from speed-related traffic incidents, the Minnesota DPS says.
CAR ACCIDENT ATTORNEY PAM ROCHLIN
At the Rochlin Law Firm, our best MN lawyers have over 25 years' experience successfully representing people injured in a car accident where the other driver was speeding.  If you have been injured because the other vehicle was  speeding, call us and speak with an attorney for a free consultation. 
Our top lawyers will explain your rights after a car accident. We make sure you get the compensation for your injury you are entitled to. The primary focus of our attorneys is to make sure your medical bills are paid, lost wages reimbursed, future needs are provided for and all additional compensation like pain and suffering is paid. We only represent the people who have suffered the car accident injury, never the insurance company. Our car crash lawyers represent people throughout Minnesota. We will come to your home to meet with you about your case.