AUTO ACCIDENT ATTORNEY MINNEAPOLIS – REPAIR SHOPS AND MECHANICS
One of the first problems that need to be addressed after a car accident in Minneapolis MN is getting your damaged vehicle repaired.
Our auto accident lawyers have handled many crash cases in Minneapolis. Although we focus mostly on injuries, we want to provide a list of some potential repair shops that can fix your car if it is not totaled. Of course, we are not endorsing these car repair shops. However, we provide them as a starting point. You should investigate and decide for yourself. When you talk to a car accident insurance company, they may suggest an auto repair shop. Keep in mind that you do not have to go where the insurance company suggests. In fact, it is your choice where to get your car repaired after a crash.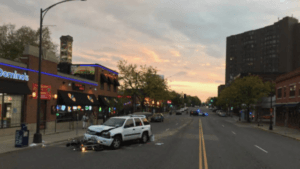 For more information on getting compensation for the damage to your car, click here. Also, you can call us for a free initial consultation with a Minneapolis car accident lawyer. Of course, if you have been injured in a car accident in Minneapolis, please call us as soon as possible to discuss your rights with a lawyer. The primary focus of our car accident lawyers is to get full injury compensation for our clients. This starts with medical bills and lost wages. However, there can be many more harms from a car accident injury.
Auto body shops in Minneapolis recommended by the Better Business Bureau. http://www.bbb.org/minnesota/accredited-business-directory/auto-body-repair-and-painting/minneapolis-mn
Isles Auto Repair
2402 Hennepin Ave. S.
Minneapolis , MN 55405
(612) 374-2978
**Just skilled mechanics repairing your car**
Convenient Uptown Location
Hours 7:30-5:30 Monday – Friday
Your Local Firestone Complete Auto Care Store
Store # 9962
Store Manager: Rich Fellers
1100 Hawthorne Ave Minneapolis, MN 55403-1300
Lehmans Garage
5431 Lyndale Avenue South
Minneapolis, MN 55419
Tel: (612) 827-5431 Fax: (612) 827-0076 Email: Minneapolis@LehmansGarage.com
Pam Rochlin and David Rochlin are car accident attorneys with more than 25 years' experience.  We have handled numerous cases in Minneapolis and throughout Minnesota.