AUTO ACCIDENT LAWYERS MN – DRIVER FELL ASLEEP
A new report highlights the dangers of driving with lack of sleep. The report found that missing just 1-2 hours of sleep in a 24-hour period doubles the risk of an automobile crash. The report is from the AAA Foundation for Traffic Safety.  What is more, drivers are 11 times more likely to crash if they have had less than 4 hours of sleep in a 24-hour period.
Our top car accident attorneys have represented many people injured in MN because a driver fell asleep at the wheel. Sometimes it is a passenger injured when the driver falls asleep and runs off the road, and sometimes. Of course, in many cases it is people in another car when the sleeping driver crosses lanes and hits them.
FALLING ASLEEP WHILE DRIVING CAN BE FATAL
It is well known that sleep deprivation can lead to drowsiness and reduced concentration. For drivers, lack of sleep may reduce the ability to pay attention to the road. Tired driving also results in slow reaction times and affects the ability to adjust as road conditions change. In fact, one of our best MN car accident lawyers worked on a case where the other driver had set the cruise control on his car and then drove into the rear of our client's auto when he fell asleep while driving.  Our client was driving ahead of him at a slower speed, and he didn't see them.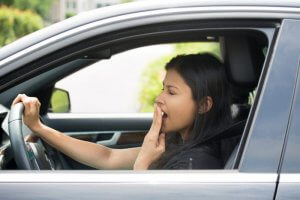 A previous survey from the AAA Foundation for Traffic Safety revealed that 97 percent of drivers deem drowsy driving to be a "completely unacceptable behavior." However, despite knowing the risks of drowsy driving, around 1 in 3 drivers report having driven while sleepy. In addition, 1 in 25 drivers report having fallen asleep at the wheel while driving in the past month. Such behavior can have devastating consequences; according to the Centers for Disease Control and Prevention (CDC), drowsy driving was responsible for around 72,000 crashes, 44,000 injuries, and 800 deaths in one year.
Sleepy driving 'comparable to drunk driving'
This survey provided information on 7,234 drivers from the U.S. who were involved in 4,751 motor vehicle crashes in a two-year period. All crashes had been reported to the police and involved the dispatch of emergency medical services.
As part of the investigation into each crash, drivers were asked to report the start and end times of any sleep they had in the prior 24 hours. The results revealed that drivers who had 6-7 hours of sleep over 24 hours were 1.3 times more likely to have a motor vehicle crash than those who slept the recommended 7 hours or more.
Our top car accident lawyers were not surprised by these results. The crash can be caused by falling asleep at the wheel while driving, or just because of slow reaction time because of being too sleepy or tired.
Emphasizing the seriousness of drowsy driving, Dr. Yang says the findings show that a driver who has had less than 5 hours of sleep "has a crash risk comparable to someone driving drunk."
Tips to avoid drowsy driving
Yawning or blinking frequently, problems keeping eyes open, trouble remembering the past few miles, missing an exit, and lane drifting can be warning signs of driving while drowsy. New auto technology is working to help prevent drivers from falling asleep while driving. However it is not perfect at preventing accidents, and of course it is not in all cars.
The AAA Foundation for Traffic Safety notes that more than half of drivers who have been involved in fatigue-related motor vehicle crashes say they have experienced no symptoms prior to dozing off behind the wheel.
As such, the organization recommends taking a number of measures to prevent drowsy driving:
Get at least 7 hours of sleep each night.
For longer journeys, aim to travel at times you are usually awake.
Take a break every 2 hours or every 100 miles.
Avoid using medications that can cause drowsiness prior to driving.
Travel with an alert passenger and, if possible, take turns driving.
EXPERIENCED CAR ACCIDENT LAWYERS
If you are injured in an auto accident, either as a passenger when the driver fell asleep at the wheel, or when the driver of another auto crashed into your car because he fell asleep while driving, call us and speak with one of our lawyers for a free consultation. Our car accident lawyers represent people injured in accidents throughout Minnesota. We have offices in Minneapolis, Edina, St. Louis Park and Woodbury.  One of our lawyers will also come to your home to meet with you and discuss your auto accident case.