CAR ACCIDENT IN ST. PAUL – PERSONAL INJURY LAWYERS
If you are injured in an auto accident in St. Paul MN, the insurance company will sometimes dispute who was at fault, and even more frequently will dispute the extent of your injury and not want to provide fair compensation.  This is why you often need an attorney for a St. Paul car accident. Here is one example of a St. Paul auto accident case our top attorneys handled.
One of the St. Paul car accident lawyers in our office recently concluded a case where the crash occurred on a Saturday in September, at approximately 4:30 p.m. on Concordia Avenue near Fisk Street in St. Paul. Concordia Avenue is a one-way street heading eastbound.
At the time of the crash, our client was sitting in his car, which was parked at the curb on the south side of the roadway.  He was looking at his cellphone and trying to find his grandfather's phone number. He was in the area to pick up his grandfather, who was staying with our client's aunt, who lived on Concordia Avenue. Our client had not been to his aunt's house for some time and was not sure exactly which house it was.  He was in the process of attempting to call his grandfather to figure out which house was his aunt's when the crash occurred.
While he was parked along the edge of the roadway, something made him look up into his rear view mirror (perhaps the sound of the other driver's car?), at which time he could only watch as the other car came up very fast behind him, veered to the left toward the freeway than abruptly to the right again. Our client knew that he was going to be hit, so he pushed back in his seat to try and brace himself for the impact.
The other car violently struck the rear of our client's parked vehicle, pushing our client's vehicle up over the curb and onto a grassy area by the sidewalk. Our client's body was violently thrown around in the car despite his trying to brace for impact.
ST. PAUL POLICE RESPOND TO CAR CRASH
Immediately after the St. Paul car crash our client felt very disorientated and confused and felt severe pain in his throat.  He slowly got out of his vehicle and went over to a retaining wall along the sidewalk and sat down.  He vaguely remembers the other driver coming up and talking to him and asking if he was okay. He does not remember what he told the other driver.  Our client called 911 and waited for the police to arrive. In the meantime, two of his aunts came out to assist, and his wife also came to the scene.
There was considerable damage to both vehicles from this accident. Our client's vehicle was totaled. It is believed that the other vehicle was also totaled, as it had to be towed from the scene.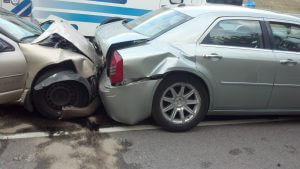 When the police arrived on the scene of the crash, the St. Paul police officer kept asking the other driver "how in the heck did you lose control and hit a parked car?" The other driver kept saying, "I lost control and I hit the gas by accident." The officer ticketed the other driver, which of course made it easier for the car accident lawyer for this St. Paul car accident. There was not much chance for the auto insurance company in this case to argue about who was at fault.
This St. Paul car accident was pretty severe, and both drivers were injured. However an auto accident injury lawyer was still needed because the insurance company for the other driver disputed the claim and did not want to fully compensate our client for his injury. In this kind of situation, you need a top rated car accident lawyer in St. Paul to deal with the insurance company for you.
LAWYERS FOR ST. PAUL CAR ACCIDENT
Pam Rochlin and David Rochlin are car accident attorneys who have successfully handled many cases in St. Paul. Our lawyers have more than 25 years' experience helping hundreds of people get fair compensation after being injured in a car crash in St. Paul. If you are injured in a car accident in St. Paul MN, you should talk to a lawyer from our office to have your rights fully explained.  We have an office in Woodbury where you can come and talk to a car accident lawyer about your case.  Our attorneys will also come to your home to discuss your injury case in St. Paul and throughout MN. The initial consultation is always free, and we never charge anything unless we get you compensation.