TOP INJURY LAWYERS FOR CAR CRASH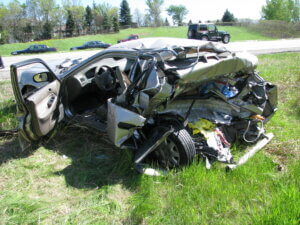 Authorities reported two people killed Tuesday, Oct. 26, when their vehicle crossed the centerline, crashing head-on with a semi, in Leaf River Township near Wadena MN. The crash happened shortly before 5 p.m. on Highway 71 near the 190th Street intersection. Emergency responders were alerted to the crash at 4:51 p.m.
Upon arrival of emergency personnel, Minnesota State Patrol advised that a 2006 Cadillac STS was traveling north when the vehicle veered across the centerline and struck a southbound 2017 Peterbilt semi. The driver and the passenger were dead at the scene, according to the Minnesota State Patrol incident report. The driver of the semi was taken to Tri-County Health Care in Wadena with non-life threatening injuries.
The state patrol reports that one person in the car was wearing their seatbelt. It unknown whether the other person in the car or the truck driver were wearing theirs. Fire personnel were on scene for several hours to assist law enforcement with the crash and clean-up of debris, according to the Wadena Fire Department.
SERIOUS CAR ACCIDENT CASE NEEDS TOP LAWYER REPRESENTATION
This is obviously a terrible and tragic situation. The families will grieve and be forever affected. However, there are also some difficult insurance issues to sort out. It looks like the driver of the car was at fault. But the surviving family is still entitled to certain auto insurance benefits. The family of the deceased passenger may be entitled to even more compensation.  Sadly, the funeral expenses must be considered. There may also be recoverable lost wages that will help the surviving families. The passenger's family will also be entitled to compensation for the negligence of the driver. These are issues for a top car accident lawyer.
Our top car accident lawyers have helped hundreds of people in this type of situation. We have more than 25 years experience dealing with complicated insurance issues after a car crash. When you call our office, you will get a free initial consultation with an experienced attorney. We will answer your questions and explain your right. Our lawyers are compassionate and patient. We handle cases throughout Minnesota, including the Twin Cities, Albert Lea, Rochester, Mankato, St. Cloud, and Duluth.