CAR ACCIDENT WINTER DRIVING CRASH LAWYER
At the Rochlin Law Firm, our experienced car accident lawyers have handled hundreds of MN injury cases.  Once the crash has happened, it is too late to do anything about it other than to make sure everyone is treated fairly by the insurance company and their rights are protected.  Therefore, getting people the appropriate insurance compensation is the primary focus of our Minnesota top rated auto accident attorneys.  Of course, we also encourage our friends to do everything possible to avoid the car accident to begin with.
Here are some tips from the MN State Patrol our car accident attorneys came across regarding winter driving and icy roads to avoid a car crash.
WINTER DRIVING TIPS FROM MN STATE PATROL – CAR ACCIDENT LAWYERS
Putting the Brrrrrakes on Winter Driving Crashes
While summer months are the deadliest on Minnesota roads, wintertime leads to the most crashes. Slippery or icy roads post safety risks and hazards.
Stay safe while on the road in the winter:
Avoid unnecessary travel if conditions are too poor.
Buckle up, and make sure child restraints are secured tightly. Bulky clothes and blankets go on top of the child restraint harness, not beneath, to ensure harness restraints fit properly.
Drive at safe speeds according to road conditions, and provide for plenty of travel time.
Increase safe stopping distance between vehicles.
Use extra precautions when driving around snowplows by keeping at least five car-lengths behind plows.
If skidding, remain calm, ease foot off the gas, and turn the steering wheel in the direction you want the front of the vehicle to go.
If vehicle has an anti-lock braking system (ABS), apply a steady firm pressure to the brake pedal. Never pump ABS brakes.
Clear snow and ice from vehicle windows, hood, headlights, brake lights and directional signals.
Headlights must be turned on when it is snowing or sleeting.
Do not use cruise control on snow/icy/wet roads.
ADDITIONAL WINTER DRIVING SAFETY TIPS
Equip vehicles with a scraper/brush, small shovel, jumper cables, tow chain, and a bag of sand or cat litter for tire traction. Blanket(s), heavy boots, warm clothing and flashlights are also important, as are storing high-energy foods such as chocolate or energy bars.
Be sure cell phones are charged for long trips, and inform family of destination plans and schedule.
If stranded, stay in the vehicle.
Parents of teen drivers should make sure new motorists experience snow and ice driving in a safe environment, such as an empty parking lot.
For weather-related road condition information, call 5-1-1 or visit www.511mn.org.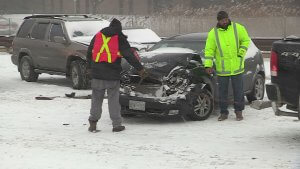 CAR ACCIDENT INJURY LAWYER PAM ROCHLIN
If you are injured in an auto accident in Minnesota because of an icy road, call us and speak with one of our attorneys for a free consultation. We will explain your rights and make sure you are treated fairly by the insurance company.
INJURED IN AUTO ACCIDENT COMPENSATION
Pam Rochlin and David Rochlin are top car accident lawyers with more than 25 years' experience. We have successfully represented hundreds of people injured in a car accident throughout MN. Pam is a former partner at Meshbesher and Spence. At our firm, she offers personal service to her clients in our small firm environment. She was elected president on MN Lawyers for 2014 – 2015, and has been selected as a personal injury super lawyer for many years.
We meet new clients to discuss a car accident case at our offices in Edina, Minneapolis, Woodbury and St. Louis Park.  In addition, our auto accident lawyers also make house calls and will come to your home in St. Paul, Minneapolis, St. Cloud, Anoka, Chaska, Chanhassen, Albert Lea, Chaska, Apple Valley, and other cities throughout Minnesota.