INJURED BY SEAT BELT IN CAR ACCIDENT – ATTORNEY
Our car accident lawyers have represented hundreds of people injured in crashes. We can tell you for sure that seatbelts save lives and reduce injuries – if they are used. However, our MN auto accident injury attorneys have represented many people actually injured by the seat belt or an airbag in the crash. Nonetheless the injuries are far less severe than they would be without the safety equipment.
Minnesota has passed car accident safety laws, including laws related to seatbelt use. Below is the primary MN law regarding seat belt usage. If you have any questions about this, you are welcome to call our office and speak with a top car accident lawyer for a free consultation. Our attorneys are always willing to answer your questions.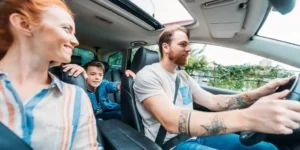 169.686 SEAT BELT USE REQUIRED; PENALTY.
Subdivision 1. Seat belt requirement.
(a) Except as provided in section 169.685, a properly adjusted and fastened seat belt, including both the shoulder and lap belt when the vehicle is so equipped, shall be worn by the driver and passengers of a passenger vehicle, commercial motor vehicle, type III vehicle, and type III Head Start vehicle.
(b) A person who is 15 years of age or older and who violates paragraph (a) is subject to a fine of $25. The driver of the vehicle in which a violation occurs is subject to a $25 fine for each violation of paragraph (a) by the driver or by a passenger under the age of 15, but the court may not impose more than one surcharge under section 357.021, subdivision 6, on the driver. The Department of Public Safety shall not record a violation of this subdivision on a person's driving record.
Subd. 1a. Definitions.
(a) For purposes of this section, the following terms have the meanings given.
(b) "Passenger vehicle" means:
(1) a passenger automobile defined in section 168.002, subdivision 24;
(2) a pickup truck;
(3) a van;
(4) a commuter van, as defined in section 168.126; and
(5) a recreational vehicle, as defined in section 168.002, subdivision 27.
(c) "Passenger vehicle" does not include a motorcycle, motorized bicycle, bus, school bus, a vehicle designed to operate exclusively on railroad tracks, a farm truck as defined in section 168.002, subdivision 8, or special mobile equipment as defined in section 168.002, subdivision 31.
(d) "Pickup truck" means a truck, regardless of manufacturer's nominal rated carrying capacity, that is commonly known as a pickup truck.
(e) "Van" means a vehicle, regardless of the manufacturer's nominal rated carrying capacity, of a box-like design that (1) has no barrier or separation between the operator's area and the remainder of the cargo-carrying area, or (2) is designed to carry 15 or fewer passengers, including the driver.
Subd. 2. Seat belt exemptions.
This section shall not apply to:
(1) a person driving a passenger vehicle in reverse;
(2) a person riding in a vehicle in which all the seating positions equipped with safety belts are occupied by other persons in safety belts;
(3) a person who is in possession of a written certificate from a licensed physician verifying that because of medical unfitness or physical disability the person is unable to wear a seat belt;
(4) a person who is actually engaged in work that requires the person to alight from and reenter a motor vehicle at frequent intervals and who, while engaged in that work, does not drive or travel in that vehicle at a speed exceeding 25 miles per hour;
(5) a rural mail carrier of the United States Postal Service or a newspaper delivery person while in the performance of duties;
(6) a person driving or riding in a passenger vehicle manufactured before January 1, 1965; and
(7) a person driving or riding in a pickup truck while engaged in normal farming work or activity.
AUTO ACCIDENT INJURY LAWYERS MINNESOTA CASES
Auto insurance issues after being injured in a crash can be complicated. If you have been injured in a car accident, call us and speak with an attorney at our office for a free consultation. Pam Rochlin and David Rochlin are car accident attorneys with more than 25 years' experience handling hundreds of auto, truck, and motorcycle cases.
The primary focus of our top car crash lawyers is on getting you and your family fair and full compensation if you have been injured in a MN auto accident.  Our best attorneys have represented many people injured by the seatbelt, shoulder belt, and airbag because of a car crash. We have offices in Edina, Woodbury MN, Minneapolis, and St. Louis Park where you can meet with one of our auto accident lawyers to discuss your case. A lawyer from our office will also meet with you and your family at your home.
We handle car accident cases in St. Paul, Roseville, Forest Lake, White Bear Lake, Anoka MN, Brooklyn Park, and Brooklyn Center Also, Maple Grove, Plymouth MN, Eden Prairie, Apple Valley MN, Burnsville, Albert Lea, and throughout Minnesota. A car accident injury lawyer will provide you with a free initial consultation to answer your questions and make sure your rights are protected. Most importantly, we never charge anything unless you receive compensation for your injuries.