WHAT TO DO AFTER BEING BITTEN BY A DOG
The saying goes that a dog is a man's best friend. However, while dogs can be loyal companions, there is a bit of risk to the relationship. There about 4.5 million dog bites in the U.S. each year, and about one in five bites becomes infected, according to the Centers for Disease Control and Prevention (CDC).
Our MN dog bite lawyers have represented many people attacked and bitten by a dog and we have seen many different types of injuries from a dog bite. After a dog bite or attack, the injury could be as little as an abrasion, which you don't have to see anyone about. However, our top dog bite lawyers have worked on many cases at the other end of the spectrum, such as where someone's scalp is eviscerated, or nose is bitten off, or there is a major vascular injury that requires surgery.
If you are actually just scratched by the dog, the best treatment, according to the CDC, is to wash the wound thoroughly with soap and water, apply an antibiotic cream and cover the wound with a clean bandage. See a healthcare provider if the wound becomes red, painful, warm, or swollen; if you develop a fever; or if the dog that bit you was acting strangely.
GET CHECKED OUT AFTER ANY DOG BITE
However, "Anytime the bite is a penetrating puncture wound, you need to get seen at either the urgent center or the ER," said Dr. Nate Rudman in a recent Google article. "The more minor the bite, the more likely the urgent center is fine. On the other hand, if there is any question of the dog's tooth being broken off or a foreign body or bone or tendon involved – then probably the ER is more appropriate."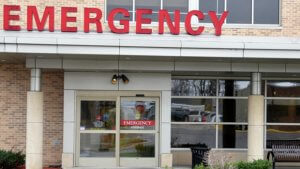 A puncture wound introduces bacteria into the body, which can be dangerous, he said. "Anytime someone is sick after being bitten – if they get a fever or they're systemically sick – they need to go right to the ER."  If you can't verify the rabies vaccination status from the dog's owner, it's best to go to the ER, since urgent care centers don't stock the immunoglobulin that gives you immediate protection.
DOG BITE LAWYERS MN 
At the Rochlin Law Firm, our lawyers have more than 25 years' experience successfully representing people injured by a dog in Minnesota.  You are welcome to call us and speak with a top dog bite lawyer for a free consultation. Our dog bite attorneys will advise you on your rights and make sure you are fully compensated by the homeowners' insurance of the dog owner. We are experienced with all kinds of dog bite and dog injury cases involving a variety of injuries, including severe scaring requiring extensive reconstructive surgery.
We have offices in Minneapolis, Edina, and Woodbury where you can meet a lawyer, or one of our best dog bite lawyers will come to your house in St Paul, Brooklyn Park, Maple Grove, Chanhassen, Minneapolis, Mankato, and other cities throughout Minnesota.