INJURED IN MOTORCYCLE ACCIDENT LAWYERS
Our attorneys have 25 years' experience successfully handling hundreds of personal injury cases throughout Minnesota. We have represented many people injured in a motorcycle accident, including passengers and motorcycles hit by a car. The motorcycle accident injury our best attorneys see most frequently is severe road rash scars. But unfortunately, there are also many cases involving broken bones, brain injuries, and other types of serious injury from a motorcycle crash.
If you have been injured in a motorcycle accident in Minnesota, there are many complicated insurance issues to deal with. This is why you should talk to an experienced motorcycle accident injury lawyer soon after the accident. We will answer your questions and deal with the insurance issues. In the meantime, our lawyers can conduct any necessary investigation. We recently came across an article from the CDC regarding motorcycle fatalities and injuries. Here it is:
Today, more people are riding motorcycles than ever before. Motorcycle riders represent almost every demographic group in the country. Riders now tend to be more affluent than 30 years ago. The average age of riders has increased, and more women are riding than ever before. The profile of who crashes and who dies has changed too:
Age: Young people are not the only ones dying in motorcycle crashes. Recently, more than half the people killed in motorcycle crashes were 40 or older, up from 25%.
Sex: While only 10% of riders killed in motorcycle crashes are women, almost all passengers (89%) killed in motorcycle crashes were women.
Helmets: Forty-one percent of motorcycle operators and 50% of motorcycle passengers who died were not wearing a helmet.
Location: More people are killed in motorcycle crashes on rural roads now than 20 years ago. Roughly half of all crashes take place on rural roads.
Alcohol: When people drink and ride, they are at much greater risk of crashing and dying. Twenty-eight percent of motorcycle riders who died had a blood alcohol concentration that was at or above the legal limit of .08 g/dL.
Motorcycle Type: The majority of people who die in crashes are riding sport motorcycles with mid-size engines designed to maximize speed and agility.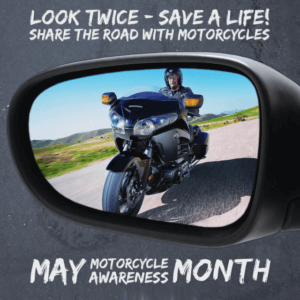 ONE MOTORCYCLE ACCIDENT CASE
While studying for ministry, I spent a year as chaplain resident at a Chicago hospital. I was "on call" one evening when the emergency room paged me. An ambulance had just brought in a fellow who'd been riding his motorcycle without a helmet when an SUV had turned in front of him. Unable to turn or stop, he had hit the vehicle, ramming his head into a door. He was a classic "biker dude": muscular arms, tattoos, and a couple days' growth of beard.
He was unconscious and his face was swollen and turning purple. Emergency room staff swarmed around him. I spent most of the night with that family. I listened to their stories, I shared their tears. The couple had two teenagers, plus a younger girl, age nine. I think about his family every time I see a biker zoom by without a helmet.
Helmets and cautious driving save lives. If, like this fellow, you have tough biker friends, they may tease you if you do wear a helmet. It takes a thick skin and courage to handle teasing. Then again, I wonder how much courage it took for the nine-year-old girl to go in and say goodbye to her father? -Reverend Dennis McCarty
"A group of state legislators from across the country heard a presentation from a University of New Mexico neurosurgeon. At the end of his talk, one legislator asked, 'If there was one thing we could do in the legislature to make your job easier, what would it be?' They expected to hear, 'Give us more money' or 'Increase our budget!' Instead, the surgeon answered, 'Pass a motorcycle helmet law.'" – Melissa Savage National Conference of State Legislatures
The Public Pays For Motorcycle Crash Injuries
Everyone pays when a motorcycle rider is severely injured. You can talk about freedom of choice, but when other people must pay for the consequences of that choice, then it's not freedom of choice at all. – Lt. Col. James Champagne, Executive Director, Louisiana Highway Safety Commission, Retired.
"Despite the effectiveness of motorcycle helmet legislation, many states have repealed these laws.  Unfortunately, policymakers don't think about who pays for the care of these victims. In other words, how much of this cost is subsidized by public funds?" – Journal of the American Medical Association.
It is estimated that the economic burden of injuries and deaths from motorcycle related crashes in one year totaled $12 billion.  Studies have also shown that a substantial proportion of costs are paid by the U.S. public due to higher insurance premiums and taxes. In fact, a study of 105 motorcyclists hospitalized at a major trauma center determined that 63% of their care was paid for by public funds. Medicaid accounted for over half of all charges.
Key Factors
Two key factors influence the public's financial burden from motorcycle crashes: helmet use and hospital and rehabilitation costs.
Motorcycle riders injured in a crash without a helmet and admitted to hospitals face substantially higher healthcare costs than do helmeted riders. In other words, unhelmeted riders also use more of a hospital's critical resources.
Motorcycle riders are twice as likely to suffer traumatic brain injuries from crashes if they are not wearing a helmet.
Unhelmeted motorcycle riders are less likely to have health insurance. They are therefore more likely to have their medical expenses paid by government-funded healthcare.
LAWYERS FOR MOTORCYCLE ACCIDENT MN
At the Rochlin Law Firm, we are experienced motorcycle accident injury lawyers in Minnesota. If you are injured in a motorcycle crash after being hit by an automobile, our attorneys will help you. You can call us and speak directly with a lawyer for a free consultation. An attorney will answer your motor cycle crash questions. Further, we will never charge anything unless you are compensated. Our primary focus is getting you complete compensation for your motorcycle accident injuries. This includes reimbursement for missed time at work, medical bills and more.
A top motorcycle accident lawyer from our office can advise you of your rights if you have been injured. We will explain the insurance issues and conduct a proper investigation to prove how the accident happened and who was at fault. A best motorcycle accident injury lawyer can meet you at our offices in Minneapolis MN, Edina, St. Louis Park, or Woodbury MN. Our attorneys also meet motorcycle accident victims at their homes in St. Paul Minnesota, Roseville, Lino Lakes, and Forest Lake. Also, Brooklyn Center, Brooklyn Park MN, Anoka Minnesota, Maplewood, Maple Grove, Plymouth MN, Chanhassen, Chaska, Bloomington MN, Richfield, Burnsville, Albert Lea MN, Lakeville, and other cities throughout Minnesota.