AUTO ACCIDENT WITH TRUCK LAWYER
A recent study reported that one out of nine car crash deaths resulted from a collision involving a large truck. (Gross vehicle weight greater than 10,000 pounds.) This is a staggering statistic when you consider that trucks make up way less than 1/9 of vehicles on the road. Large trucks also accounted for 4 percent of all vehicles involved in injury and property-damage-only crashes. Minnesota definitely has our share of truck accidents that injure people in a car and cause property damage. Our top MN lawyers handle cases against trucks and semis, usually where a semi-truck hits the smaller vehicle, every year.
TRUCK ACCIDENTS RESULT IN SERIOUS INJURY AND PROPERTY DAMAGE
Because of the size of semi-tractor-trailers, the injuries and property damage after a auto accident caused by a truck are often serious. Our best MN semi-truck accident attorneys represent people injured because of a collision with semi trailers and other kinds of trucks. Because they are so big, if a semi truck hits your car, the vehicles do not have to be going very fast for serious damage to occur to the car. As a result of the crash with a semi tractor, people can be injured from the initial impact with the truck, or when they crash into something else after being hit or pushed by the truck.
Our car – truck crash attorneys have seen auto accidents where the force of the impact with a semi truck has propelled the car into other cars or the median at high speeds.  The second impact can actually be worse than the first. Because semi-truck and other commercial vehicles are so dangerous, they are required to have significant insurance coverage so that your medical bills can be paid and you can receive other compensation for your injuries and car damage. Our MN car/truck accident lawyer have years of experience making sure our clients are fully compensated for their injuries after a being hit by a semi or other type of truck.
SEMI TRUCK ACCIDENT CRASHES – MN ATTORNEY
There are numerous state and federal regulations that govern the operation of commercial vehicles like semi trucks, tractor trailers and other trucks. The purpose of these regulations is to keep cars from being hit by a truck. In Minnesota, the State Patrol is required to do a complete investigation every time there is a crash involving a semi-trailer, but they mostly focus on drug testing, trip logs, and whether the equipment is working properly.
Unfortunately, the State Patrol's accident reconstruction and witness interviews after a truck accident in MN can sometimes be less than thorough. Therefore, if you have been injured, it is best to hire a top truck accident attorney soon after the crash so we can do our own investigation as well. Even after the evidence from the scene is removed, there may be skid marks our expert can examine, and we always want to do our own interviews with witnesses.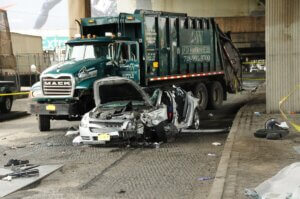 INJURY LAWYERS FOR CAR ACCIDENT WITH TRUCK MN
Call one of our top attorneys as soon as possible for a free consultation if you are injured because of a car crash with a truck or semi tractor trailer. Pam Rochlin and David Rochlin are Minnesota personal injury lawyers with more than 25 years of experience successfully handling hundreds of auto and truck accident injury cases. We will discuss your case with you and explain your rights. Our semi truck accident lawyers will meet with you to discuss your case and injuries at our offices in Minneapolis, St. Louis Park, Woodbury, and Edina.
Our lawyers also frequently meet with people to discuss their car hit by truck accident cases at their homes in Chanhassen MN, Chaska, Eden Prairie, Maple Grove MN, Rogers MN, Brooklyn Park, Forest Lake MN, Burnsville, Rogers, Apple Valley, Roseville, Maplewood, and other surrounding cities throughout Minnesota. There is no obligation on your part, and we always only charge a percentage of what we collect for you.