BIKE ACCIDENT INJURY LAWYER BIKE HIT BY CAR OR TRUCK MN
If you are hit by a car while riding your bicycle, you have the right to compensation. At a minimum, you are entitled to No-Fault compensation.  In Minnesota, No-Fault insurance will reimburse you for your medical bills and lost wages, up to $20,000 for each.  It doesn't matter if the bike accident was your fault or if you have your own insurance.  You can always get No-Fault coverage is you are injured in a bike accident.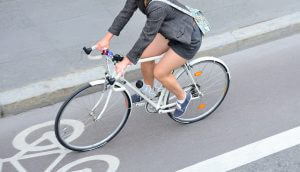 No-Fault coverage, however, is limited as noted above. But, If the driver of the car or truck that hit you while you were riding your bike was at fault, you will also be entitled to additional compensation.
Many bicycle accident cases result in the bike rider being seriously injured. If you were in the hospital for a few days or require surgery from your bike accident, your medical bills will be more than $20,000.  If the vehicle that hit you was at fault for the bicycle accident injury, their insurance will pay you additional compensation for the extra medical bills, future medical needs, and more.
EXPERIENCED ATTORNEY FOR BIKE ACCIDENT INJURY
At the Rochlin Law Firm, our bike accident lawyers have more than 25 years' experience making sure that injury victims are fully and fairly compensated for their injuries. Pam Rochlin is a former Partner at Meshbesher and Spence and has served as the president of MN Women Lawyers – an organization with more than 1300 members.
When you contact us, you will speak with a lawyer, not an assistant, and you will receive personal attention throughout your case. Our lawyers handle bicycle accident cases throughout Minnesota. Call us for a free consultation.  There is never a fee if there is no recovery.