MOTOR SCOOTER ELECTRIC BIKE HIT BY CAR – INJURY LAWYERS
When a motor scooter is hit by a car, the injuries to the rider can be serious. Our lawyers have represented many motor scooter and motorcycle accident victims after an accident with a car. A motor scooter or electric bike is small enough that a driver not paying attention can easily not see it.  Also, because the motor scooter is smaller than a motorcycle, the car often misjudges how fast the motor scooter is going.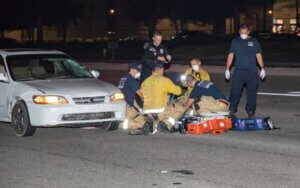 If you are hit by a car while driving a motor scooter, you may have access to auto insurance through your own auto policy. This "No-fault" coverage applies even if you are at fault in causing the accident.  This is different than a motorcycle because the motorcycle exclusion is based on the size of the engine. A motor scooter may have a small enough engine to avoid the No-Fault exclusion for motorcycles in Minnesota law.
If the car is at fault in causing an accident with a motor scooter, the driver's auto insurance must pay compensation. Compensation when a car hits someone on a motor scooter accident includes medical bills and lost wages. There is also compensation for pain and suffering.  Of course, repair or replacement of the motor scooter is also required.
EXPERIENCED LAWYERS FOR MOTOR SCOOTER ACCIDENT INJURY
Proving fault and understanding the insurance issues, including the medical issues, can be complicated. Pam Rochlin and David Rochlin have 25 years' experience representing people injured in a motor scooter accident throughout Minnesota. If you were hit by a car while on a motor scooter or electric bike, call us for a free consultation with a top MN injury attorney. An experienced motor scooter accident lawyer will answer your questions and make sure your rights are protected.   We never charge anything unless you receive compensation.