JET SKI ACCIDENT INJURY – ATTORNEYS MN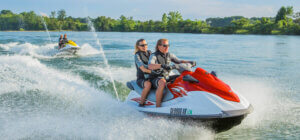 Minnesota is the land of 10,000 lakes, so of course there are many thousands of Jet skis on the lakes.  Jet Skis are a lot of fun, and our own family owns two that we use every summer. However, it is important to be aware that there are Jet Ski accident cases on MN lakes and rivers every year.  Last August, for example, a man fell off a Jet Ski on a lake in Brainerd and drowned.
Also last summer, a 72 year old man was killed near Mississippi Point Park in Champlin. He was driving a Jet Ski at high speed and crashed.  He died from blunt force trauma. Witnesses initially thought there had been a passenger on the Jetski at the time of the accident, but that was later determined not to be true.
CAUSES OF JET SKI ACCIDENTS
Jet Ski accidents in MN can happen a number of different ways.  One problem is that the Jet ski boats are small compared to other boats on the lake. Therefore, other boats might not see them and a collision can occur.  Another frequent cause of Jet Ski accident injuries is to a passenger because the operator of the boat was driving recklessly or too fast.  The Jet Ski might crash into something, like a dock, causing an injury to the passenger, or the passenger could be thrown off the Jet Ski and injured.
There have also been many injuries as a result of someone tubing behind a Jet Ski. This happens when the Jet-Ski goes too fast or pulls the tube into an object like a dock or another boat. No matter what the cause of the accident, if there is a serious injury on a Jet Ski, a lawyer should be consulted.  We will make sure an investigation is being done in a thorough manner and statements are taken from the witnesses.
COMPENSATION FOR JET SKI INJURY
When an accident happens on the lake, most people have homeowners insurance or specific boating insurance that will cover their negligence. Our experienced MN injury lawyers have represented a number of people injured in a jet ski or boat accident. We know how to deal with the insurance company to make sure the person injured receives fair and complete compensation for their injury.
If you have been injured in a jet ski accident in MN, call us and speak with an attorney for a free consultation.  Our lawyers have more than 25 years' experience representing people injured in jet ski, boating, ATV, and other types of accidents. We have offices in Edina, Minneapolis, Woodbury, and St. Louis Park where you can meet with an attorney to discuss your jet ski case.  We also will meet with clients at the clients' homes in Brainerd, McGregor, White Bear Lake, Minnesota, Forest Lake, Stillwater, Alexandria, and other cities throughout Minnesota.