DRIVER FLEEING POLICE HITS CAR CAUSES INJURY LAWYER
A St. Paul newspaper reported today that an innocent motorist has died after his vehicle was struck by a man speeding down an alley late Friday. Police were dispatched just before midnight on reports from a woman that her boyfriend tried to stab her 14-year-old son with a machete. The 9-1-1 caller said that the suspect had jumped in a van and was speeding up and down an alley just north of University Avenue at Victoria.
A responding officer arrived on the scene and activated his lights, but the 26-year-old suspect did not stop. He instead sped off to flee the police officer. The driver nearly hit another officer and eventually crashed into a garage and then a vehicle on Sherburne Avenue. The vehicle that was struck by the other car fleeing the police was hit so hard that it actually split in two. The victim was rushed to Regions Hospital but did not survive.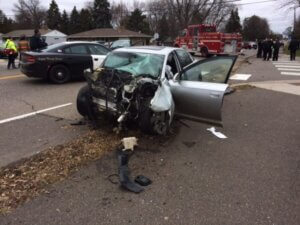 OUTRUNNING POLICE IN CAR NOT SUCCESSFUL
The suspect jumped out of his vehicle and ran on foot but was eventually caught and taken into custody. He suffered a broken sternum and collar bone, and was also taken to Regions. The suspect was treated and then booked into the Ramsey County Jail. He was charged with criminal vehicular homicide and running from the police after the accident.
Witnesses said the victim was a great guy with an excellent sense of humor who loved his children. He could light up a room with his personality. They say it doesn't seem real, even though it is. "You lose a good person, he was a friend to everybody, fun guy, just living his life normal and, and you lose him in such a tragic way."
CAR ACCIDENT ATTORNEYS DAVID ROCHLIN AND PAM ROCHLIN
If you have been injured in a car accident, call our lawyers for a free consultation. Pam Rochlin and David Rochlin are Minnesota personal injury lawyers with more than 25 years of experience. We have handled hundreds of car accident injury cases. We will discuss your case with you, answer your questions, and explain your rights. An auto accident lawyer will meet with you at our office or your home for a free consultation. We come to hospitals like HCMC, Abbott Northwestern, North Memorial, Regions and others. We have offices where you we can meet with you to discuss your auto accident injury case at in Minneapolis MN, St. Louis Park, Woodbury, and Edina.
Our attorneys also frequently meet with people to discuss their car accident case at their homes in St. Paul MN, Chanhassen, Chaska, Eden Prairie, Maple Grove, and Rogers. A lawyer will also come to you in Brooklyn Park, Bloomington, Richfield, Apple Valley, Roseville, Maplewood, and other surrounding cities in Minnesota. There is no obligation on your part, and we always only charge a percentage of what we collect for you.