MN CAR ACCIDENT ATTORNEY – POLICE OFFICER INJURED IN CRASH
Fox News recently reported that "A Ramsey County Sheriff's deputy was injured in a crash in Arden Hills, Minnesota. This happened late Wednesday night, according to the Ramsey County Deputies' Federation." Unfortunately, police officers are always at risk from bad drivers.
The report says it happened near the intersection of Hwy. 96 and the off-ramp from Hwy. 10. Both the squad vehicle and an SUV were damaged. The squad vehicle also caught fire.  According to the Ramsey County Sheriff's Office, deputies were looking for a suspect in a stolen vehicle in the area of Hwy 96 and 10. But, as a deputy responded to the area, his squad was hit by the suspect's vehicle on the off-ramp. The impact of the crash caused the deputy's squad to spin, hit another vehicle, and catch fire.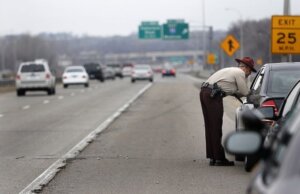 The deputy suffered serious injuries in the crash, including a bruised lung, fractured ribs and a possible head injury. The deputy's squad was hit broadside by the fleeing stolen vehicle. The suspect, who was also transported to the hospital, was wanted on a warrant for fleeing police in a motor vehicle. He also has a "lengthy" criminal history. More of this story will likely come out over time. When a police office is injured on the job, the case is taken seriously. 
CAR ACCIDENT LAWYER MN – COMPENSATION FOR LAW ENFORCEMENT OFFICER INJURED
Any police officer, sheriff's deputy, State Patrol trooper, or other law enforcement, will receive workers compensation benefits if injured in a car accident while on the job.  However, if the crash was another driver's fault, the officer may also be entitled to additional compensation. This can come from the auto insurance for the vehicle that caused the accident, and possibly even the officer's personal auto insurance as well. Workers compensation does not provide full compensation after an on duty crash. However, you can often get additional compensation from the other driver's auto insurance. 
If you are a law enforcement officer who has been injured in a car crash, call us and speak with a top MN lawyer for a free consultation. We will answer your questions and make sure you are fully compensated.