CAR ACCIDENT LAWYER
This was a case handled by a car accident lawyer in our office: The crash occurred in St. Paul on February 8, 2019, at about 8:00 a.m. Our client had completed her first delivery of the day for work and was proceeding to next location. She was driving her Toyota Corolla southbound on Hamline Avenue, headed toward the Ashland intersection. At the same time, a 2008 Mazda was also southbound on Hamline, but ahead of our client.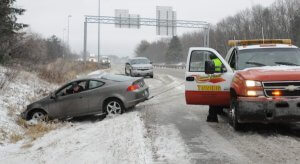 It had been snowing that day and the roads were icy. Our client recalls she was driving slowly in the right lane to be safe. However, the other driver was driving faster in the left lane. As the other driver approached the Ashland intersection in the left lane, she lost control of her vehicle and spun into the northbound lane. Unfortunately, an approaching Nissan Armada hit the other driver's vehicle, causing it to crash into the east barrier wall of Hamline. The impact also pushed the Armada into the southbound Hamline where it collided with our client's vehicle.
The St. Paul police were called to the scene.  They found our client bleeding profusely from her nose. Her hearing aid had also fallen out and was missing.
Some people might suggest the crash was unavoidable because of the icy roads.  However, there is little question the other driver was driving too fast. In fact, fault was uncontested by the insurance company. The other driver admitted she was going too fast and lost control of her vehicle. Our car accident lawyer presented the facts to the insurance company. They then paid for the property damage and tendered their $100,000 bodily injury policy limits.
ST. PAUL CAR ACCIDENT INJURY LAWYER
This is a fairly typical case for our car accident lawyer. Unfortunately, too many drivers ignore road conditions. Sometimes, there is stop-and-go traffic that results in a rear-end crash. Driving through rain without slowing down is another dangerous situation. Likewise, failing to watch for deer on the road, children in residential neighborhoods, etc. Of course, driving after drinking can be fatal.
Call us if you have been injured in a car accident. Our best car accident attorneys will answer your questions and protect your rights. You can meet with an attorney at our offices in Minneapolis and St. Paul. A car accident lawyer will also come to your house anywhere in Minnesota.