SERIOUS CAR ACCIDENT INJURY – LAWYERS MINNESOTA
A car accident can produce very serious injuries to the victims.  Many people think high speed crashes cause the most serious injuries, and often that is true.  However, depending on the angle of the collision, the types of vehicles involved, and other factors, any car accident can result in a very serious injury.  Our lawyers also represent many injury victims in cases where a car hits a pedestrian, motorcycle, or bicycle. Of course, these types of cases result in serious injury regardless of the speed on the vehicle.
A top auto accident lawyer can help you get through the insurance issues. We prove the other driver's fault, protect your rights, and make sure you get all the compensation you are entitled to.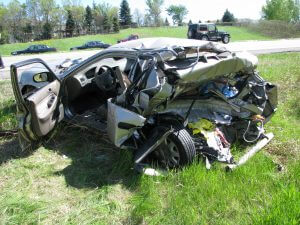 At the Rochlin Law Firm, you will get honest advice and representation from a top, experienced, MN car accident lawyer. We provide personal attention to your serious injury case.
TYPES OF SERIOUS CAR ACCIDENT INJURY CASES
A serious car accident injury means you have lost significant physical or mental function.  A car accident attorney must have experience representing people with all types of injuries. For example, our lawyer handle case involving brain injury, spinal cord injury, amputation, blindness or loss of vision, orthopedic injuries, and others.
When someone is seriously injured an auto accident it may prevent them from returning to work, either during an extended recovery or even permanently.  Often, the victim will not be able to earn the same as they did before. A best car accident lawyer from our office will make sure that your past earnings and future potential earnings are fully documented so that we can prove your total future loss of earnings.
In addition to the lost income, there are many other losses suffered after a serious injury from a car crash.  This often includes the ability to care for your family, children, even yourself. A car accident attorney must be caring to understand the full extent of these serious losses. If you are unable to live independently, engage in the activities you enjoy, this must be fully presented to the auto insurance company or jury so that you can be fairly compensated.
CAR ACCIDENT ATTORNEYS WHO GET RESULTS
At the Rochlin Law Firm, our top lawyers have more than 25 years' experience. We have represented many people who have been seriously injured in a car crash. Pam Rochlin is a former partner at Meshbesher & Spence.  We provide personal attention to your injury case. When you call our office, you will speak with a lawyer, not a staff person.
You can meet a car accident attorney at our office in Minneapolis, Edina, Woodbury and St. Louis Park.  An auto accident lawyer will also come to you at your home in St. Paul, Roseville, Forest Lake, Brooklyn Park, Anoka, Rogers, Chaska, Chanhassen, Albert Lea, Mankato, Burnsville, and other cities throughout Minnesota. We will provide you with a free consultation. Further, we never charge you anything unless we win your case and you are compensated for your serious injuries.