OTHER DRIVER ON DRUGS – CAR ACCIDENT LAWYERS MN
Our car accident lawyers frequently represent people injured by a drunk driver. However, there have also been cases where the other driver who caused the crash was high on drugs – usually marijuana or methamphetamine.  Not to mention, millions of people are on prescription pain killers at any time in Minnesota and throughout the country. Unfortunately, our auto accident lawyers have seen many cases where people on drugs will drive even though they are impaired. Sadly, when the other driver is under the influence of drugs, a terrible car accident can be the result.
CAR ACCIDENT ATTORNEYS – INVESTIGATION DRIVER UNDER THE INFLUENCE OF DRUGS
To determine which driver was negligent in causing a car accident, including if the other driver is under the influence of drugs, our attorneys often conduct an investigation into the circumstances of the crash. Sometimes what is written on the police accident report is not an accurate depiction of what happened. Investigation is often crucial in a car accident case.  Even more so when a truck is involved or the auto accident happens at an intersection.
Our top car accident injury attorneys have won cases throughout MN, even when the responding police officer initially attributed 100% fault to our client' car. Investigations can be particularly important in semi-trailer cases, pedestrian cases, and drunk driving cases. Investigation are also especially important in intersection crashes where someone ran a red light causing the car accident. Also, car accidents caused by speeding or following too closely, or failing to stop for a stop sign or signal a turn. Even a rear end accident may need an injury lawyer investigation to avoid potential defenses.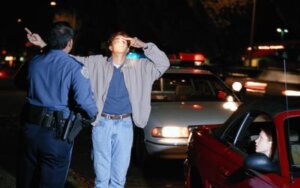 If you have been injured in a Minnesota car crash, the sooner you call our lawyers the sooner we can begin our investigation to prove or cement your case. Hopefully, if the other driver appears to have been high driving on drugs, the police will notice strange behavior and do the appropriate testing.  Our lawyers will of course look at the other driver's criminal records, social media, and friends, to see if we can determine a drug problem that may have caused the accident. However, the most important evidence cam come from the police at the accident scene.
MN CAR ACCIDENT INJURY LAWYERS PAM ROCHLIN AND DAVID ROCHLIN
Please call us and speak with a top car accident lawyer as soon as possible if you are injured because of a vehicle crash in MN.  If the other driver was on drugs, we will help prove your case. Pam Rochlin and David Rochlin are Minnesota personal injury lawyers with more than 25 years' experience. We have handled hundreds of car accident injury cases. Pam is a former partner at Meshbesher and Spence, offering personal attention to our clients. A MN auto accident injury lawyer will discuss your case with you and explain your rights.
Our injury attorneys are happy to meet with you at our office or your home. If you were injured in a car accident because the other driver was high on drugs, an attorney will meet with you to discuss your case at our offices in Minneapolis MN, St. Louis Park, Woodbury, and Edina.
Our car accident injury lawyers also frequently meet with people at their homes to discuss their auto accident cases  in St. Paul MN, Chanhassen, Chaska, Eden Prairie, Maple Grove, and Rogers. Also, Anoka MN, Brooklyn Park, Bloomington, Apple Valley, Roseville, Maplewood, Minneapolis, and other surrounding cities in Minnesota. The initial consultation is free. There is no obligation on your part, and we never charge anything unless you receive compensation for your injuries.