CAR ACCIDENT OTHER DRIVER DRIVING TOO FAST – INJURY ATTORNEYS
Many auto crashes are caused because the other car was speeding. However, speeding is not just driving faster than the posted speed limit. Speeding can also be a matter of driving too fast for the road conditions. At the Rochlin Law Firm, our lawyers have represented many people injured in a MN car accident because the other driver was speeding or driving too fast for the road conditions.
In Minnesota, we get different types of weather over the course of the year that can cause slippery or dangerous roads. Drivers are expected to recognize dangerous road conditions and slow down to avoid a car accident. When a driver fails to slow down in these types of conditions, a serious crash can result, sometimes resulting in the need for an auto accident injury lawyer. A speeding car can result in rear ending the car ahead when traffic slows, or driving into a ditch and causing a rollover accident, amount other things.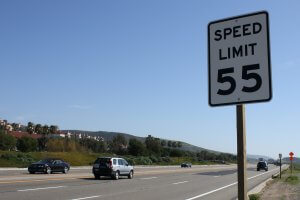 Failure to drive at appropriate reduced speed per Minn. Stat. Sec. 169.14 constitutes driving at unlawful speed under Minnesota statute Section 169.20. Every driver must drive at an appropriate reduced speed when approaching an intersection and when special hazards exist due to weather conditions Minn.Stat.Sec. 169.14(3). The driver of any vehicle traveling at an unlawful speed shall forfeit any right of way which the driver might otherwise have. MS 169.20(1).
SPEEDING CAR AT FAULT IN CRASH
In case of a trial, the car accident lawyer will make sure the jury is instructed that if they find that the defendant was driving too fast or above the speed limit, they must find him guilty of negligence. This is something our top MN auto accident injury attorneys will explain to the insurance company for you, and a jury if necessary.
The reasonable and prudent person standard of negligence is used in evaluating a driver's conduct under the general speed (MS 169.14) and following too closely (MS 169.18(a)) statutes. These statutes do not in themselves establish a prima facie case of negligence; they merely describe what could constitute negligence. What is a reasonable following distance for a car is a question for the jury.
Minnesota law contains no hard and fast rules about how close or how slow a driver must be driving before he is considered to be speeding. These cases are determined based on their particular circumstances, described by the witnesses and argued by the car accident lawyers. When you meet with a car crash lawyer from our office, we will carefully discuss the facts of the accident with you to determine who was at fault for speeding or any other reason.
CAR ACCIDENT LAWYER – INVESTIGATION
To determine which driver was negligent in causing a car accident, our car accident personal injury attorneys often have to conduct an investigation into the circumstances of the crash. Sometimes what is written on the police accident report is not a true depiction of what happened, and witnesses or other evidence may tell a different story.
Our top car accident injury attorneys have won cases even when the responding police officer initially attributed 100% fault for the collision to our client's car. Investigations can be particularly important in semi-trailer cases, pedestrian cases, and drunk driving cases. If you have been injured in a car accident because the other car was driving too fast, the sooner you call a lawyer at our office, the sooner we can begin our investigation to prove or cement your case.
CAR ACCIDENT ATTORNEYS PAM ROCHLIN AND DAVID ROCHLIN
You are welcome to call us any time and speak with a lawyer if you are injured in a car accident. Pam Rochlin and David Rochlin are Minnesota personal injury lawyers with more than 25 years of experience handling hundreds of  speeding and other car accident injury cases. We will discuss your case with you and explain your rights. A lawyer will meet with you at our office or your home to discuss your car accident injury.
Our attorneys can meet with you to discuss your car accident injury case at our offices in Minneapolis MN, St. Louis Park, Woodbury, and Edina. Our lawyers also meet with people to discuss their car accident injury cases at their homes in St. Paul MN, Chanhassen, Chaska, Eden Prairie, Maple Grove, Rogers, Anoka MN, Brooklyn Park, Bloomington, Apple Valley, Roseville, Maplewood, and other surrounding cities in Minnesota. There is no obligation on your part, and we never charge anything unless you receive compensation for your injury.