MN CAR ACCIDENT LAWYER FOR HIT AND RUN INJURY ACCIDENT
A Hopkins man has been charged in connection with a hit-and-run that left a pedestrian with serious injuries, court records show.
A criminal complaint filed in Hennepin County District Court on Friday states that the 25-year-old driver was charged with felony criminal vehicular operation. According to the complaint, on April 14 Hopkins police officers responded to a report of an injured person at 9:20 p.m. at Fifth Avenue and Fifth Street South. Officers found the male victim lying on the side of the road; he was not moving and appeared to have blood in and around his mouth. Our car accident lawyers have handled many MN cases like this.
INJURY COMPENSATION ATTORNEYS
The victim of this hit and run car accident was in critical condition when he was first brought to the hospital. His injuries included a laceration on the right side of the head and a broken bone in his right ear. In addition, he had, a bruised lung and a small fracture in his lower spine. According to the complaint, the victim has been unable to communicate since the crash. There are many complicated insurance issues in this type of serious injury car accident where the other car hit and ran.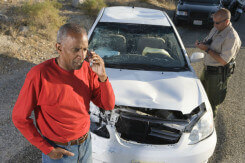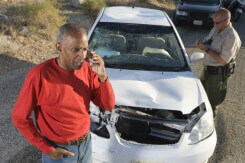 Upon investigation, officers were able to find silver paint chips and clear plastic pieces in the area. They were also able to review surveillance footage and pinpoint the time of the accident based on the timing of the 911 call, according to the complaint. Upon reviewing surveillance footage, they saw a silver vehicle with damage to the front end on the passenger side. After canvassing the area for a similar vehicle, officers found a Honda Ridgeline on the 700 block of Ninth Avenue South on Thursday that was registered to the driver. It had damage consistent with the surveillance footage and evidence recovered at the crime scene.
FINDING DRIVER WHO LEFT ACCIDENT SCENE
According to the complaint, officers spoke with the hit and run driver's grandmother, who lived at the house where the Ridgeline was found. She confirmed the vehicle belonged to him and that he had told her his car was damaged in a hit-and-run crash. Additionally, he posted on Facebook the day after the hit-and-run asking for recommendations on an auto body mechanic. Officers also obtained surveillance footage from a liquor store that shows him getting out of the Ridgeline and assessing the damage shortly after the hit-and-run. He was in custody as of Friday. He was being held on a $50,000 bond.
If you have been injured by a hit and run driver, call our car accident lawyers for MN crashes. Pam Rochlin and David Rochlin have more than 25 years' experience helping hundreds of auto accident victims throughout Minnesota. Our primary focus is to make sure you get the compensation you are entitled to so that you receive payment for your medical bills, lost wages, and more. The initial consultation is free. Further, we never charge anything unless you are compensated.