HIT ON SHOULDER OF ROAD MN CAR ACCIDENT LAWYERS
A 46-year-old Minneapolis man died in a crash Sunday on Interstate 694 in Oakdale, Minn. Fox News reported the accident. The circumstances of the crash remain under investigation, but the report says that social media posts suggest the victim was driving to a Mother's Day brunch. For some reason, his car was pulled off on the right shoulder. The Minnesota State Patrol reports he was outside his Lincoln MKS with the rear driver's side door open. Unfortunately, a Chevy Silverado drifted onto the right shoulder, striking his car while he was on the shoulder of the road. The pick-up continued out of control, veering back into the lanes of traffic where it struck a third car. That driver was not injured.
Upon impact, the victim was thrown and killed.
CAR ON SIDE OF THE ROAD VULNERABLE
The deadly crash on the shoulder of the road shut down the interstate for hours late Sunday morning. Authorities are urging drivers to think about their safety and wellbeing if and when they have to pull off the highway for some reason, like a flat tire or engine trouble. "Just the speed itself… people are moving with the flow of traffic and being out of your vehicle is a danger when speeds are that high.
We ask people to stay belted in and buckled in. Stay in your vehicle. Foremost, call us. Call 911 so we can get there to help you… [we] can't get there unless we know," said Lieutenant Gordon Shank with the Minnesota State Patrol. For more information, here is the website for the State Patrol: https://dps.mn.gov/divisions/msp/Pages/default.aspx.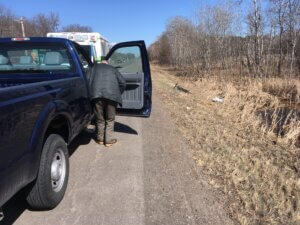 When a car is on the shoulder or side of the road, the other cars should see and avoid a potential accident.  Unfortunately, many drivers are distracted in their car by electronic devices and other activities, so they may not see someone on the shoulder of the road and a crash can occur. Our lawyers have represented a number of people injured when they were hit on the shoulder of the road, because they had to pull their car over, etc.
INJURED IN CAR CRASH ATTORNEYS
If you have been injured in a Minnesota car accident while on the shoulder of the road, call us for a free consultation with a top car accident Lawyer. Pam Rochlin and David Rochlin are car accident lawyers in MN with over 25 years' experience helping hundreds of car accident victims with the auto insurance issues and making sure they are fully compensated for their injuries.