CAR ACCIDENT LAWYERS
Two local accidents attributed to slick roads and poor driving decisions recently sent a couple people to the hospital. Unfortunately, some of the injuries are serious. Our car accident lawyers regularly handle these types of cases.

Rockford Twp. In one case, A 31-year-old man from Montrose and a 64 year old man from St. Bonifacius were transported to hospitals following a two-vehicle crash. They were on Hwy. 25 in Buffalo on Dec. 23 at around 6:30 p.m. A 2005 Dodge Caravan approached the intersection of Hwy. 25 and 10th St. SE. At the same time, the other driver was also approaching the intersection in his 2016 Jeep Cherokee. The two vehicles collided and both drivers were sent to hospitals with life-threatening injuries. Alcohol was involved with the driver from St. Bonifacius.
At least both drivers were wearing seatbelts. 
Agencies assisting at the scene were the Wright County Sheriff's Office and Buffalo PD.
Melrose Twp. In the second case, a 75-year-old man from Alexandria was transported to CentraCare of Melrose at around 1:55 p.m. His 2013 Chevrolet Impala went off the roadway on I-94 and struck the cable median barrier.  The man was transported to the hospital. However, his injuries were not life-threatening. He was not wearing a seatbelt. Assisting at the scene were Melrose PD, Stearns CSO and Melrose Ambulance.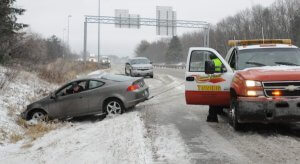 INJURY LAWYERS FOR CAR ACCIDENT
If you have been injured, call us for a free consultation with our best car accident lawyers. Pam Rochlin and David Rochlin are Minnesota personal injury lawyers with more than 25 years of experience handling hundreds of car accident injury cases. We will discuss your case with you, answer your questions, and explain your rights.
Our auto accident lawyers will be happy to meet with you at our office or your home for a free consultation. A lawyer can also come to hospitals like HCMC, Abbott Northwestern, North Memorial, Regions and others. We have offices where you we can meet with you to discuss your car accident injury case at in Minneapolis MN, St. Louis Park, Woodbury, and Edina.
Our car accident attorneys also frequently meet with people to discuss their car accident case at their homes in St. Paul MN, Chanhassen, Chaska, Eden Prairie, Maple Grove, Rogers, Brooklyn Park, Bloomington, Richfield, Apple Valley, Roseville, Maplewood, and other surrounding cities in Minnesota. There is no obligation on your part, and we always only charge a percentage of what we collect for you.