LOST WAGES AUTO INSURANCE – CAR ACCIDENT ATTORNEYS MN
Minnesota law provides that if you miss work because you were injured in a car accident, your No-Fault auto insurance must pay you 85% of your lost income up to a maximum of $500 per week.  This is regardless of who was at fault in causing the crash. The law defines income as salary, wages, tips, commissions, professional fees, and other earnings from work. Also, tangible things of economic value produced through work in individually owned businesses, farms, ranches or other work. If you can't work for an extended time because of the car crash, these payments will continue until you reach the limit of your coverage, usually $20,000.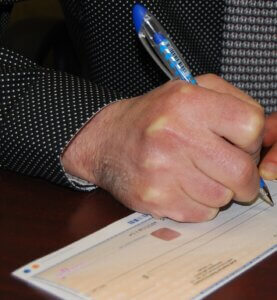 Our car accident lawyers in MN have represented many people where that $500 per week lost income reimbursement was the difference between our client paying rent or being evicted.  However, while we appreciate the benefit of lost earnings replacement, our car crash attorneys also recognize that $500 per week often does not come close to fully compensating many people after they are injured in an accident. They and their family may still be in a very difficult financial situation. The average wage in Minnesota in 2020 was over $30 per hour. That translates to $1,200 per week.  Getting complete compensation for our clients is the primary focus of our top Minnesota auto accident injury lawyers.
CAR ACCIDENT MISSED WORK PAYMENT
Nonetheless, we are very grateful to the Minnesota legislature for amending the law in 2015 to increase the maximum lost wages benefit to $500 per week – because it had been $250 per week for many years.   The total cap on this loss of earnings benefit is still $20,000 unless you purchase stacking coverage. However, that $500 per week for lost work income is a significant improvement for many people who find themselves in a difficult situation because they were injured in a car accident.
It is also important to remember that this lost wages benefit is available regardless of fault (no-fault).  In other words, you can receive the automobile accident lost income insurance benefit however you are injured in a car accident, even if the accident was your fault. Of course, since this benefit comes from your insurance, you have to be insured (through your own insurance or your family insurance) or in another person's insured vehicle, to qualify for lost wages coverage.
If the vehicle crash was the other driver's fault, your insurance still pays for your lost wages up to 85% (your rates won't go up because of this).  However, you are entitled to get the remaining wage loss (unpaid 15%) from the other driver's insurance.  When you call to speak with a top MN car accident lawyer at our office, that is one of the issues we will discuss with you.  Our attorney will also explain how your medical bills get paid from the auto accident, compensation for pain and suffering, and more.
CAR ACCIDENT INSURANCE LEGAL QUESTIONS
Insurance issues after a car accident injury can be complicated, but you can call and speak with a lawyer at our office for a free consultation. Pam Rochlin and David Rochlin are top auto accident attorneys with more than 25 years' experience handling hundreds of auto and motorcycle cases.
Our car crash lawyers work hard to get you and your family fair and full compensation after you have been injured in an auto accident, including reimbursement of wages for time missed from work. We have offices in Edina, Woodbury MN, Minneapolis, and St. Louis Park where you can meet with one of our car accident lawyers to discuss your case.
An attorney will also meet with you and your family at your home in St. Paul, Roseville MN, Forest Lake, White Bear Lake, and Anoka MN. Also, Brooklyn Park, Brooklyn Center, Maple Grove, Plymouth MN, Eden Prairie, Apple Valley MN, Burnsville, Albert Lea, etc. Our MN car accident injury attorneys will provide you with a free initial consultation to explain your rights to you, including wage loss, and we never charge anything unless you are compensated for your injuries.