CAR ACCIDENT SPIN OUT ON ICY ROAD – INJURY LAWYER MN
If a car spins out on an icy road and hits your car in Minnesota, the other driver's insurance will usually pay for the damage to your car, plus compensation for any injuries. When there is a crash on an icy road, it is almost always because the driver of the car that spun was driving too fast. Even if they are driving the speed limit, they have to slow down for the road conditions. Sometimes the driver and their insurance company will claim that they just hit a patch of black ice and there was nothing they could do about it. This may be possible, but it is going to very rarely be the explanation.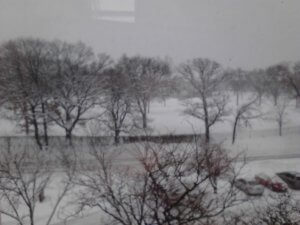 Drivers just need to slow down in the winter, and especially when it is snowing or icy on the roads. A responsible driver in the winter knows there can be ice on the road and drives accordingly.  In most cases where the other car loses control and spins on an ice road, there is a recent weather event – either snow or freezing rain, that should have made the driver more cautious.
LAWYERS FOR CAR ACCIDENT ICE OR SLIPPERY ROAD
If you are injured because another car spun out and crashed into you, call us and speak with a lawyer for a free consultation. Pam Rochlin and David Rochlin are top MN car accident attorneys with more than 25 years' experience representing people throughout Minnesota. Our lawyers have handled hundreds of cases throughout Minnesota.
A car accident lawyer will answer your questions and explain your rights. Our primary focus is to make sure you get all the compensation you are entitled to after being injured in a car crash, including medical bills, lost wages, and more.