ICY ROAD CAR CRASH – MN ATTORNEY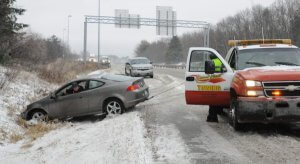 A car accident on an icy road happens many time in Minnesota every year.  In one case, according to a recent report in the Star Tribune, a vehicle occupied by three college students slid on an icy Minnesota interstate east of Fargo in a crash that killed the driver and a passenger. The wreck occurred shortly after 10 p.m. Saturday on westbound Interstate 94 in Glyndon Township, according to the State Patrol. The car was heading west on Interstate 94, went out of control on a road surface described as either snowy or icy and hit a guardrail in the median, the patrol said.
At the Rochlin Law Firm, our best MN car accident lawyers have represented many people injured or the family of those killed in a car crash on an icy road.
The three students were sophomores at NDSU.  NDSU President Dean L. Bresciani said that the university community "is deeply saddened by this tragedy, and extends sincere condolences to the families, classmates and friends of the affected students. As is our tradition, we will provide care and support to everyone affected by this loss."
Our auto accident lawyers know that when a serious injury or death occurs because of an icy road car crash in Minnesota, many lives are effected.
CAR ACCIDENT FROM ICE ON THE ROAD COMMON PROBLEM
A car accident caused by ice on the road is common in MN, but is usually the result of driver negligence.  In most of the auto accident cases our MN lawyers handle, the crash on ice occurs because a driver was driving too fast for the road conditions, i.e. did not slow down enough to account for the ice on the road.  Often times, a car or truck is following too closely behind another vehicle and slides or skids into it when traffic slows.
After a car accident on an icy Minnesota road, there can be many insurance issues to work out that our top attorneys can help you with. When you call us and speak with a car accident lawyer, we will explain these issues to you and make sure your rights are protected. The initial meeting with an auto accident lawyer can be at our offices in Minneapolis, St. Paul, Woodbury or Edina, or an attorney will come to your home anywhere in Minnesota.
EXPERIENCED AUTO ACCIDENT LAWYERS
Pam Rochlin and David Rochlin are MN car accident lawyers with more than 25 years' experience representing hundreds of people injured in accidents.  We are tough and get results, and we offer personal attention to our clients.  Our primary focus is to make sure you get the insurance compensation you are entitled to. Pam is a former partner at Meshbesher & Spence, offering personal attention in a smaller firm environment. Our attorneys handle car accident injury cases throughout Minnesota. We provide a free consultation and we never charge anything unless you receive compensation.