RECKLESS DRIVER ROAD CONDITIONS CRASH – LAWYERS FOR AUTO ACCIDENT
The Minnesota State Patrol recently reported that a trooper's squad car was hit twice within two hours in Inver Grove Heights. Around 9:20 a.m., Trooper Blake Cederstrom was stopped, with lights activated, at an accident scene in Inver Grove Heights MN.  Another car, recklessly driving too fast for conditions, slid and struck the squad in the right rear. Fortunately, no one was hurt.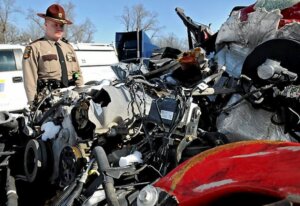 Then, about an hour and half later, the same trooper was on the left shoulder of Highway 52, writing up a crash involving a minivan. He was hit a second time when a northbound pickup lost control. The other car spun into the median and struck the van – pushing it into the squad. The pickup's 18-year-old male driver and 20-year-old female passenger, both of Rochester, sustained minor injuries. The van's driver and passenger, along with the trooper, were taken to Regions Hospital to assess their injuries.
Our Minnesota attorneys represented people injured in similar accidents where the driving was unsafe for the condition of the road. It is usually because of ice and snow on the road. However it is also other bad weather, road construction, or heavy traffic. Whatever the dangerous condition of the road, a driver must adjust his or her driving accordingly.
CAR ACCIDENT INVESTIGATION
To prove the other driver was driving inappropriately unsafe for the road conditions, our car accident personal injury attorneys often have to conduct an investigation into the circumstances of the crash. Sometimes what is written on the accident report is not a true depiction of what happened. The local police are usually less likely to assign fault for a crash (or even write a decent accident report) than the State Patrol.
Our top car accident injury lawyers have won cases even when the responding police officer initially attributed 100% fault for the collision to our client's car. Investigations can be particularly important in semi-trailer cases, pedestrian cases, and drunk driving cases. Investigation are important in cases with dangerous road conditions because witness accounts can be crucial. If you have been injured in a MN auto accident because the other driver was driving recklessly or too fast for road conditions, the sooner you call and speak with a lawyer at our office, the sooner we can begin our investigation to prove or cement your case.
MN CAR ACCIDENT INJURY ATTORNEYS PAM ROCHLIN AND DAVID ROCHLIN
Please call one of our attorneys for a free consultation if you are injured in a car accident. Pam Rochlin and David Rochlin are Minnesota personal injury lawyers with more than 25 years' of experience. We have represented hundreds of auto accident injury victims. An attorney will discuss your case with you and explain your rights. Our lawyers are also happy to meet with you at our office or your home to discuss your auto accident and injuries.
A top lawyer will meet with you to discuss your car accident injury case at our offices in Minneapolis MN, St. Louis Park, Woodbury, and Edina. Our lawyers also frequently meet with people to discuss their auto accident injury cases at their homes in St. Paul MN, Chanhassen, Chaska, Eden Prairie, Maple Grove, Rogers, Anoka MN, and Brooklyn Park. Also Bloomington, Apple Valley, Roseville, Maplewood, and other surrounding cities in Minnesota.