CAR ACCIDENT LAWYERS SLIPPERY ROAD CONDITIONS MN INJURY
A burst of snow caused slippery driving conditions in parts of Minnesota Friday morning, including in the Twin Cities. The MN State Patrol is reminding motorists to slow down, turn on headlights, buckle up and use extra caution. Slippery roads result in many accidents, most of which were preventable with appropriate driving.
State Patrol Sgt. Jesse Grabow tweeted a photo from a crash near Barnsville, where a driver ran off the road and down a ditch. Meanwhile, a more severe injury crash in the northwest metro has shut down northbound Hwy. 169 at Hwy. 10 near Elk River.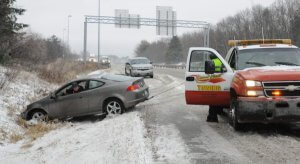 Where temps are colder in northwest Minnesota and into North Dakota, reports of icy roads have made driving conditions dangerous.  Icy road conditions are being reported in southeast North Dakota mainly along the I-94 corridor between Valley City and Fargo.  More difficult driving conditions can be anticipated in northern Minnesota this weekend as a storm system is expected to drop anywhere from a trace to five inches of snow.
"Snow will be melting as it falls, but should be heavy enough in most areas to see a few inches of accumulation, mostly in grassy areas. However, some slushy roadways are not out of the question early Saturday morning," the weather service in Grand Forks said. "Most locations that see accumulations will be in the 1- to 5-inch range, but there is the potential for a few spots to get higher amounts. Snow will taper off Saturday afternoon, but strong northwesterly winds will make for a wintery October day."
CRASH ON SLIPPERY ROAD MN ATTORNEYS
If you are injured in a crash because someone was driving too fast on a slippery road, call us a speak with a top Minnesota auto accident lawyer. Our lawyers have more than 25 years' experience representing people injured in a car accident throughout MN.  We will make sure you receive full compensation from the car insurance companies for your medical bills, wage loss, and more.