ST. PAUL REAR END ACCIDENT – MN INJURY ATTORNEYS
Our car accident lawyers have handled many rear-end crash cases in St. Paul.  In this injury case, the auto accident occurred on a Monday, at approximately 3:45 p.m. It was a clear day and the roads were dry.  Our client was coming from Lowes and heading home.
Given the time of day, there was a fair amount of traffic on the highways in St. Paul. As traffic started to slow, our client also slowed down and came to a stop. After coming to a stop, she looked in her rear-view mirror.  She immediately saw a 2016 Silverado truck with an extra cab that was pulling a load of dirt coming up very fast behind her. In addition, she realized that the other driver was not going to stop. Therefore, she braced for impact, clenching her hands on the steering wheel and straightening her arms.
The truck rammed the rear of her vehicle, pushing it into the vehicle in front of her.
Initially, our client was in shock and felt very confused. Her next reaction was anger because she had just purchased her vehicle a few months prior to the crash. She then began feeling stiffness in the left side of her neck and pain in her arms. She got out of her vehicle and spoke briefly to the man who was driving the vehicle in front of her. At that point, the driver of the vehicle that hit her also came up to talk to her. He said, "I guess I was going a little too fast." He also told her that it was his first day on the job.
INJURED IN REAR END ACCIDENT ST PAUL LAWYERS
State patrol arrived on the scene and issued a citation to the St. Paul truck driver for driving too fast. There was considerable damage to our client's vehicle, rendering it a total loss.  In addition, her neck pain from this car accident got worse of the next few days and she ended up needing months of treatment after being rear ended in this St. Paul crash.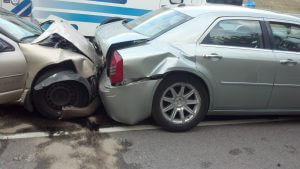 Fortunately, our top car accident injury lawyers were able to get a fair settlement for this St. Paul Crash case.  We made sure her medical bills were paid and that she was reimbursed for her unpaid time from work (including missing work for doctor appointments). In addition, she received compensation for her pain and suffering. If you are injured in a car accident in St. Paul (rear end accident or any other way) call us and speak with an attorney for a free consultation.