FATAL ROLLOVER CAR CRASH – AUTO ACCIDENT LAWYERS MINNESOTA
The Steele County Times recently reported about a fatal rollover car accident that killed a 19 year-old woman.  She had been driving south down Interstate 35 in her PT cruiser. This tragic rollover crash happened around 5 p.m. According to a report released by the Minnesota State Patrol, the woman lost control of the vehicle after one of her rear tires blew out and the car then rolled. The vehicle entered the median and the force of the roll split the vehicle into two pieces.
A portion of the PT Cruiser came to rest in the northbound lane where it was then struck by a motorcycle and two other vehicles. The woman's airbags did not deploy, which may have contributed to her dying in the accident. The force of the car rollover is suspected to have killed her instantly, and county officials declared her dead on arrival. Our car accident attorneys have handled several rollover cases, but none quite like this.
ROLLOVER CAR CRASH MN INVESTIGATION
In the aftermath of the incident, Sergeant Troy Christenson of the state patrol described the accident as "a very violent crash." He was not able to comment on why the vehicle split in half as it did or whether the blowout was a tire or manufacturer's error. More information will be available after the patrol's crash reconstructionist team has completed their report. When our top MN car accident lawyers work on a case like this, we immediately send out our own investigators to interview witnesses, get photographs and other necessary information for the case.
Five people total were involved in this horrible auto accident rollover incident. Only one other individual sustained injuries. A motorcyclist who struck a piece of the PT cruiser in the northbound lane, crashed his 1998 Harley Davidson. He is now recovering in the Owatonna Hospital having sustained several non-life threatening injuries. The motorcycle needed to be towed away as the damage was severe.
CAUSE OF AUTO ACCIDENT
Two other Minnesota residents in another car hit debris from the rollover in the northbound lane in his Dodge Pickup. Their airbags did not deploy, and neither sustained any injuries. The damage to their vehicle, however, was severe. The final vehicle, a Toyota Highlander, had its airbags deployed, and the driver received no injuries. His car, unfortunately, was totaled. A multi vehicle crash can be very complicated, which is why it is important to engage an experienced car accident injury lawyer as soon as possible after the crash.
After the car rolled over in the accident, the northbound portion of I-35 had to be closed while the southbound side was reduced to one lane. The road has since fully reopened. There was no alcohol detected in any of the persons involved in the incident and all of the individuals in cars were seat belted. The state patrol investigation is ongoing.
MN CAR ACCIDENT LAWYERS FOR ROLLOVER CAR ACCIDENT INJURY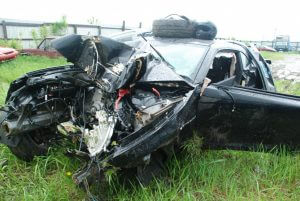 It is too soon to tell what the cause of this auto accident was.  Our MN car accident lawyers frequently get involved in serious crashes like this before the investigation is complete.
BEST AUTO ACCIDENT LAWYERS WHO GET RESULTS
Pam Rochlin and David Rochlin have more than 25 years' experience as lawyers representing people injured in a car accident rollover and other types of crashes.  Our lawyers also often represent the family of the person killed in a car accident. We are experienced, tough, and focused on getting full compensation from the insurance company for our clients.
If you have been injured in a rollover car accident, call us for a free consultation with a lawyer.  You can meet with an attorney at our office in Edina, Minneapolis, St. Louis Park, or Woodbury.  We also make house calls and one of our car accident lawyers will come to your home to meet with you in any city throughout MN.