SEMI-TRUCK ACCIDENT LAWYERS MN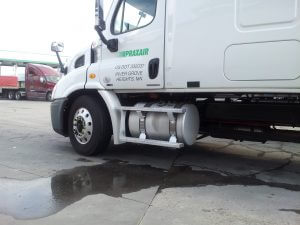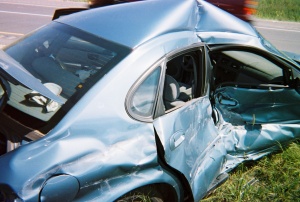 HIT BY SEMI TRUCK – MN INJURY ATTORNEY
Here is an example of a Minnesota car semi-truck crash case a lawyer from our office handled a few years ago:  A semi truck hit our client's vehicle and pushed it into a guard rail, seriously injuring our client.  The driver of the semi that hit our client's car said that our client cut in front of him and slowed down. Fortunately, one of our best semi truck car accident lawyers was able to direct an investigation of the crash which ultimately persuaded the truck's insurance company that their driver was at fault. Then they paid the necessary compensation.
Our client was on his way to work, driving his Ford Taurus.  He was traveling southbound on Highway 52, in the right lane with his cruise control set at 60 miles per hour.  At the same time, the semi-truck driver was driving southbound on Highway 52 in the left lane. The collision occurred about a mile before our client's exit.
Our client had just started slowing down by tapping on the brakes to turn off the cruise control.  At about the same time, the semi-truck moved into the right lane behind our client. The police report says the truck "drifted into the right lane as he was overtaking" our client). The truck then rear-ended our client's vehicle. These were the facts that our attorney proved to show the truck hit the car on the highway.
INSURANCE COMPANY DENIES FAULT IN TRUCK CAR ACCIDENT
It is not surprising that the truck driver and the insurance company initially denied they were at fault in the car accident.  That's why it is important to meet with an experienced semi truck car accident attorney early in a case like this. The investigation can be crucial to proving the case.  Our top semi tractor trailer auto accident lawyers MN will interview witnesses and hire appropriate investigators and reconsructionists to make sure your cased is fully proved.
In this case, our semi-truck auto accident attorney was able to prove the other driver caused the accident based on the facts and by citing MN law. Pursuant to Minnesota law, violation of a traffic regulation is prima facie evidence of negligence. Minn.Stat. §169.96(b).  In this case, our MN injury car accident lawyers argued that a reasonable jury would conclude that the semi driver caused the accident by violating the following statutes:
             Minn.Stat. § 169.18 Subd. 7. Laned highway.
When any roadway has been divided into two or more clearly marked lanes for traffic, the following rules, in addition to all others consistent herewith, shall apply: (a) A vehicle shall be driven as nearly as practicable entirely within a single lane and shall not be moved from such lane until the driver has first ascertained that such movement can be made with safety.
            Minn.Stat. § 169.18 Subd. 8. Following vehicle too closely. (a)
The driver of a motor vehicle shall not follow another vehicle more closely than is reasonable and prudent, having due regard for the speed of such vehicles and the traffic upon and the conditions of the highway.
            Minn.Stat. § 169.18 Subd. 8. Following vehicle too closely. (b)
The driver of any motor vehicle drawing another vehicle, or the driver of any motor truck or bus, when traveling upon a roadway outside of a business or residence district, shall not follow within 500 feet of another vehicle. The provisions of this clause shall not be construed to prevent overtaking and passing nor shall the same apply upon any lane specially designated for use by motor trucks.
MN CAR TRUCK ACCIDENT ATTORNEYS
Our semi-truck accident lawyers in MN reviewed the truck driver's statement.  The truck driver claimed that our client moved into the left lane to cut in front of him.  According to the truck driver, our client couldn't complete the lane change and overcorrected. However, there was no actual evidence to support the semi driver's version of what happened, while there was evidence to support our client's version that the truck hit his car.
First, because our client was only a mile from his exit and had to get off in the right lane, he would have no reason to be speeding up or trying to cut ahead of the truck in the left lane.  In fact, our client was getting ready to slow down and exit in the right lane.
Second, the semi driver admitted there was not an immediate intersection ahead, and gave no explanation as to why our client couldn't complete the alleged lane change.
Third, the patrol officer and the state trooper responding to the scene correctly cited the semi truck driver for improper lane use and driver inattention, which also helped our top car truck accident lawyer prove the case.
KNOW YOUR RIGHTS AFTER CAR ACCIDENT
If you are injured in a Minnesota car crash caused by a semi truck, please call our office and speak to one of our top rated lawyers.  Our car accident injury lawyers have handled many cases throughout MN where crashes are caused by semi trucks. There is no charge for an initial consultation with an experienced injury accident attorney, and we never charge anything unless you are compensated for your injury.
We have offices in Minneapolis, Woodbury, Edina, and St. Louis Park where you can meet with a lawyer if a semi hit your car.  An auto accident lawyer will also come to your home to discuss your lawsuit against the semi truck that hit if you live in St. Paul MN, Roseville, Anoka, Maple Grove, Bloomington, Burnsville MN, Albert Lea, Forest Lake, Chaska, Chanhassen MN and other cities throughout the state.