DOG OWNER IS RESPONSIBLE FOR MEDICAL BILLS IF THEIR DOG BITES OR INJURES SOMEONE
Every year, thousands of people end up in the emergency room because of a dog bite or attack. Many want to know, who pays the medical bills? In most cases, the dog owner is responsible for the medical bills.
In Minnesota, a dog owner is absolutely responsible for any injury caused by their dog.  Most dog owners have homeowners or renters insurance that will pay compensation if their dog bites or attacks someone. Compensation for a dog bite includes payment of all medical bills and future treatment may be needed for a scar or infection. There is often a trip to the emergency room after a dog bite.  Sometimes, the person bit needs stiches, and often needs a tetanus shot or rabies shot. There may also be follow-up doctor visits. The medical bills from a dog bite can quickly add up.
Our dog bite lawyers have represented many people who have serious scars after a dog attacked them, and may need plastic surgery or other medical treatment in the future.  Any settlement with the dog owner's insurance must include money to pay for this future care.  In addition, if there are scars that cannot be improved, the dog bite victim must be paid additional compensation for that as well.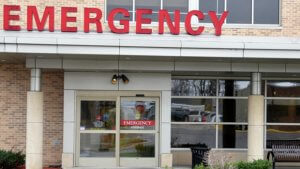 LAWYERS TO HELP WITH DOG BITE MEDICAL BILLS MN
If you have been bitten or attacked by a dog, call us for a free consultation with a top MN attorney.  We will answer your questions about medical bills from the dog bite.  Our lawyers will also explain other compensation you are entitled to.  We will make sure your medical bills are paid and future needs are provided for. Our lawyers have over 25 years' experience helping hundreds of people throughout Minnesota get fair treatment from the dog owner's insurance company.