HIT BY GOLF BALL – INJURED AT GOLF COURSE LAWYERS MINNESOTA

Our attorneys have represented several people injured on a golf course when they were hit by a golf ball.  If you are hit by a golf ball while golfing, our Minnesota injury attorneys may be able to get compensation for you from the other golfer's homeowners insurance. Here is an example of one golf course injury handled by a lawyer in our office:
The incident happened on a hot summer day. Our client and her friend went to play at the Manitou Ridge Golf Course in White Bear Lake. When they got there, another golfer was assigned to play with them.
On at least two different occasions that day, the course ranger came by in a golf cart and warned the walking threesome that they needed to play faster. As a result, all three golfers were trying to pick up the pace as best as they could. There was no order to who would tee-off first at each hole. Instead, when they reached the tee, whoever was ready to tee-off first would do so, so it varied from hole to hole who hit first.
INJURED IN GOLFING ACCIDENT MN ATTORNEY
The tragic incident happened at the 15th hole. The threesome came to the hole and the two women moved towards the women's tee to tee off first. At that same time, there was a beer/water cart lady parked on the cart path to the left of the ladies' tee. As our client moved to the ladies' tee to tee-off, her golfer friend was buying some water from the "cart lady."
As her friend watched, our client moved towards the ladies' tee when suddenly the man assigned to play with them, teed off from the men's tee (located behind the women's tee). He gave no warning that he was hitting the ball. Unfortunately, he clipped the ball and it veered to the left and struck our client in the head as she was approaching the tee. Our client was approximately 15 feet from the ladies' tee when she was struck.
Our client was hit in the head by a golf ball and sustained a brain injury from this golfing accident. Fortunately, our lawyers were able to help her get compensation from the golfer who accidentally hit her, so she was able to recover her medical bills, lost wages, and other compensation. Our client was seriously injured in this golf course accident and needed our lawyers to help her with compensation for medical bills, wage loss and more.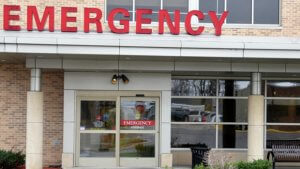 GOLFER RESPONSIBLE FOR INJURING SOMEONE
Since 1962, Minnesota courts have imposed a duty of due care upon golfers to avoid injuring other players. See Hollinbeck v. Downey, 261 Minn. 481, 484, 113 N.W.2d 9, 11 (1962). In Hollinbeck, a golfer was on a practice fairway hitting balls, one of which hit and injured a caddy collecting balls on the same fairway. The Minnesota Supreme Court held that if the defendant golfer knows, or in the exercise of ordinary care should know, that another person is in a zone of danger and is unaware of the golfer's intention to hit, the golfer should give the other person a warning or desist from striking the ball until the person is in a place of safety. 261 Minn. at 486, 113 N.W.2d at 12-13.
NEGLIGENT INJURY ON THE GOLF COURSE
The photographs of the 15th hole, combined with our client's testimony, allowed our golf accident attorney to prove the following: (1) that our client was in the "zone of danger" at the time that she was struck; and (2) that the other golfer knew or should have known that our client was in the zone of danger and (3) that our client had no warning before the other golfer hit the ball that hit her in the heard.
The photographs of the 15th hole, taken from the vantage point of the man golfer who was playing with them, show that our client was located down the fairway to the left at the time that he teed-off. From the location of our client on the fairway, it is undisputed that she was within the zone of danger.
Likewise, referring to the photographs from the vantage point of the other gofer, it is immediately apparent that had he properly perviewed the area in front of him, he would have seen our client and, under the duty imposed upon him, refrained from striking the ball until she was out of the way. On the other hand, our golf injury lawyer maintained that if he had in fact observed our client in front of him at the time he struck the ball, he again, under MN law, had a duty to refrain from striking the ball.
GOLF ACCIDENT INJURY INSURANCE COMPENSATION
Additionally, the golfer should have known that our client was unaware of his intention to hit the ball. As the other woman told us, she and our client were walking towards the women's tee in order to tee off first. Clearly, she (the friend) and our client were unaware of the other golfer's intention to tee-off behind them. Our client was struck by the ball at the back of her head behind her right ear. Therefore, she was looking down the fairway at the time that she was struck by the other golfer's golf ball. Our golf accident lawyer was able to use this evidence and the law to get a fair settlement for our injured client.
While the other golfer may have felt rushed by the golf ranger that day, that does not excuse his legal responsibility to refrain from striking his ball while our client was in an area of danger. While the golf ranger's prodding may explain why the golfer failed to use proper care, it does not excuse him from his actions that day. His liability under MN law arises because he either observed or failed to observe our client down the fairway and in the zone of danger, and failed to refrain from striking his ball until she was in a safe location or failed to warn of his intention to strike the ball.
As a result of being hit in the head with a golf ball, our client sustained a moderate brain injury that required significant medical attention, rehabilitation, and lost time from work. Fortunately, our lawyers were able to obtain a significant settlement for her to compensate her for these losses.
LAWYERS FOR GOLF COURSE INJURY ACCIDENT MN
If you were injured after being hit by a golf ball or injured at a golf course while golfing in Minnesota, please call us and speak with a lawyer for a free consultation. We have also handled several cases where someone was injured on a golf cart. Pam Rochlin and David Rochlin are experienced personal injury lawyers in MN with more than 25 years' experience successfully handling hundreds of injury cases. Pam Rochlin is a former partner at Meshbesher and Spence, offering small firm attention and personal service.
The primary focus of our Minnesota injury lawyers is to make sure you receive fair and complete compensation for your injury. We have offices where you can meet our personal injury lawyers in Minneapolis MN, St. Louis Park and Woodbury. A lawyer will also meet our personal injury clients at their homes in St. Paul MN, Chanhassen, Chaska, Maple Grove, Apple Valley, White Bear Lake, Brooklyn Park, and other cities throughout Minnesota to discuss a golf accident case or any other type of injury. Call us for a free consultation.