ICY PARKING LOT SLIP FALL INJURY ATTORNEYS – MINNESOTA
Our lawyers have represented many people who have been seriously injured because they slipped and fell in an icy parking lot in MN. One incident we handled involved a newspaper delivery carrier. He went to pick up his newspapers at about 2:00 a.m., just as he was supposed to.  It was cloudy at the time of the incident, but there was no precipitation, and it had not snowed for several days.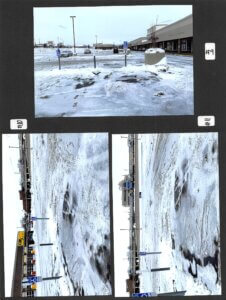 2:00 a.m. is a very busy time for that parking lot, with dozens of delivery people coming to pick up newspapers for delivery at that time every day.
Unfortunately, despite the very high usage during the night, the parking lot was poorly maintained and had insufficient lighting.  After the accident, a safety and lighting expert evaluated the parking lot – on a night when the moon was in the same phase as the night of the incident, the snow cover was approximately the same, and there was less cloud cover.  In other words, the lighting conditions were approximately the same from all sources, except that there was less cloud cover so there was somewhat more light from the moon and stars.
The safety expert hired by our top slip fall lawyer measured the light in the area of the parking lot where our client fell, and determined that the amount of light in that area was far less than the recommended level for a parking lot with that level of usage.
PROPERTY OWNER RESPONSIBLE FOR ICE ON PARKING LOT
The property where this slip fall accident occurred is basically a warehouse.  There are several loading docks which the delivery people use to enter the building and then bring out their stacks of newspapers on dolly carts. Our client parked approximately 40 feet from the loading dock and starting walking toward the loading ramp to get his newspapers, as he had done many times before.
Knowing that it was winter and that the parking lot was not well maintained, he was wearing rubber soled shoes and using his cane for support.  As he was walking toward the loading ramp, he hit a patch of ice that had accumulated in an indented/dip area of the parking lot, causing him to fall forward onto his right knee.  Despite being very cautious, he simply could not see the patch of ice in the poorly lit parking lot.
BAD LIGHTING A FACTOR IN PARKING LOT FALL
Our experienced slip fall accident attorneys interviewed and obtained statements from several people who witnessed the incident or were there the night it happened.  Each of the witnesses told us, and was willing to testify, that there was insufficient lighting in the parking lot.  The only lighting in the parking lot comes from lights that are affixed to the outside of the building, and the light from those fixtures simply does not shine far enough from the building to sufficiently illuminate the parking lot.
The witnesses also stated to our lawyer that while the parking lot was regularly plowed during the winter, it was not adequately salted or sanded for ice, if it was salted or sanded at all.  Photos taken the night of the incident show that there is packed snow throughout the parking lot with some areas appearing icy.
Our client's medical bills in that case because he fell in an icy parking lot were well over $100,000, and he missed months of work.  Because of the expert report and the witnesses our lawyers were able to locate, we were able to get a significant settlement for our client that paid all his medical bills, lost wages, and also compensated him for his significant pain and suffering.
SLIP FALL INJURY ATTORNEYS MN
If you are injured because you fell on ice in a parking lot in MN, try to have a friend or family member go out to the parking lot as soon as possible to get lot of pictures. If is also helpful if you can get the names of any witnesses so our best lawyers can follow up with them. At the Rochlin Law Firm, we have more than 25 years' experience successfully representing people who are injured because they fell in an icy parking lot. You are welcome to call our office and speak with a slip fall attorney for a free consultation.
Our lawyers will explain your rights to you and proceed with investigation of your case if appropriate. Our slipped fell attorneys can meet you at our offices in Minneapolis, Woodbury, and St. Louis Park.  A lawyer will also meet clients at their homes to discuss an icy park lot injury in St. Paul, Roseville, White Bear Lake, Brooklyn Park, Anoka, New Hope, Plymouth, Golden Valley, Chanhassen, Chaska, Albert Lea, Mankato, Bloomington, Richfield, Burnsville, and other cities throughout Minnesota.