ATV RIDER INJURED HIT BY CAR LAWYERS
A 70 year old Hoffman man was air-lifted to the St. Cloud Hospital Tuesday following a collision between a car and an ATV.  The Douglas County Sheriff's Office received a 9-1-1 call of a vehicle versus ATV crash on County Road 25 SW, near the intersection of Boxelder Drive SW. A 76-year-old man, also of Hoffman, was driving a Dodge Dakota and collided with the ATV driver who was operating a Honda ATV. Unfortunately, the ATV driver died from his injuries.  The driver of the car was not injured.
The person riding on the ATV sustained severe injuries and was airlifted to the St. Cloud Hospital. He died from his injuries soon after arriving. The Douglas County Sheriff's Office came to the scene. In addition, there was North Ambulance, Kensington First Responders, and Hoffman Ambulance. Finally, the State Patrol, and Minnesota Department of Natural Resources helped with traffic control and the investigation. The crash remains under investigation.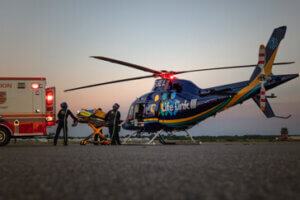 Riding an ATV is fun, but it also leaves the driver and passenger exposed to serious injury or death.  Too many cars today have a distracted driver using a cellphone or other device. A car can hit an ATV driving on the side of the road or in an intersection, causing serious injury or death.
EXPERIENCED INJURY COMPENSATION ATTORNEYS
Our lawyers have represented many people injured in a MN ATV or car accident with a distracted driver. If you have been injured while driving an ATV or you are injured as a passenger riding on an ATV, call us and speak with a top attorney for a free consultation.  The Rochlin attorneys have 25 years' experience successfully representing people injured or the family of someone killed in an accident.  The primary focus of our MN lawyers after an ATV accident injury is to make sure our clients get all the compensation they are entitled to. We handle cases throughout Minnesota and an attorney from our office will come to you to discuss your ATV accident injury case.