TBI BRAIN INJURY FROM ACCIDENT – ATTORNEY
If your accident results in a traumatic brain injury (TBI) , the experience of our lawyers will help your case.  Our attorneys have helped people with their brain injury case after a Minnesota car accident, motorcycle accident, truck accident, defective product injury and slip and fall accident.  Here is one example of a TBI case an attorney from our office handled a few years ago.
Our client was at a golf course and was hit in the head with a golf ball when another player was teeing off. She immediately fell to the ground and was unresponsive.  As she lay there, her friend observed blood draining from her head.  It was obvious that our client had sustained a serious head injury.  The "cart lady" rushed to the clubhouse for help.  Our client was ultimately taken to the clubhouse on a cart where she was escorted onto an ambulance.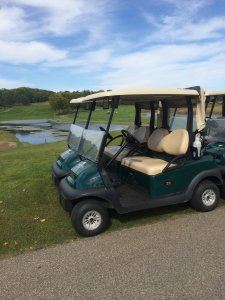 Although the initial CT brain scan was negative, our client's mother and sisters came to the hospital and stayed with her.  Fortunately, her older sister alerted the hospital to our client's odd behavior, as well as her continued nausea and vomiting. By the following day, her sister was encouraging the hospital to take a second CT scan to look for a TBI.  The follow-up scan showed a worsening of the temporal epidural hematoma (brain injury) and likely skull fracture.  As a result, our client underwent immediate emergency surgery for craniotomy evacuation.  Upon waking from surgery, she experienced headache, nausea, vomiting, and a ringing and fullness in her right ear.
ROAD TO RECOVERY AFTER BRAIN INJURY TBI
This brain injury accident was the start of a long and difficult recovery for our client.  Initially she attended physical therapy for her TBI. She had to relearn to walk, maintain balance, and use very basic motor skills.  Over several months, she graduated to ambulating without an assistance device. Her family initially did not want to call a lawyer regarding the brain injury. However, as the medical bills started to pile up they knew they had to do something.
After she was released from the hospital, she spent a week at a rehabilitation home, which included physical therapy.  She then went home with her mom, who took care of her for another couple of weeks.  During that extended period, she basically was confined to her bed because of the TBI. Her mom had to help her to the bathroom, help her dress, feed her, etc.
At the same time, she continued to have problems with ringing in her ears, dizziness, as well as emotional difficulties.  She became very depressed, and her mom began noticing a lack of self-confidence. She also suffered from decreased memory after the traumatic brain injury (TBI) accident, frequently forgetting dates and everyday things.
MISSED TIME FROM WORK AND OTHER COSTS OF TBI ACCIDENT
Our client was finally released to return to work approximately a month and a half after her injury.  While her improved physical condition allowed her to return to work, she continued to experience serious difficulties due to the psychological and emotional effects of her brain injury.  Unfortunately, her TBI caused her to struggle to maintain her self-confidence, and she would constantly express self-doubts to her family.  Her family also noted that since the accident she would experience a lot of irrational worries and ruminate over small matters at work that. This is not something that was a problem before the accident.
Additionally, as is common with a brain injury, she told our best MN brain injury attorney that she suffered from significant fatigue.  She was constantly tired and had difficulties functioning physically because of her exhaustion.  This, of course, made it tough for her to perform her duties at work.
Additionally, she continued to experience dizziness, which interfered with her work.   Based on the positive findings on an ENG, the doctor felt that she had a right vestibular injury.  He recommended a CT scan to see if a fistula existed in the vestibal/oval window area or labyrinth self.  Eventually, our client underwent another surgery consisting of an exploratory tympanotomy, where the doctor observed a fistula and closed the fistula surgically. Fortunately, following this second surgery, she told our top MN brain injury lawyers that the dizziness diminished over time. She now suffers from only very rare episodes of dizziness.
PHYSICAL AND EMOTIONAL EFFECTS OF BRAIN INJURY FROM ACCIDENT
Unfortunately, our client also continued to suffer from blurred vision following the incident.   A doctor at Minnesota Eye Consultants concluded that she had a neurotrophic dry eye secondary to her cranial injury.  The doctor prescribed lubricating drops and ointment, which improved her symptoms.  To this day, she continues to use eye drops on a regular basis.  She purchases this over the counter to keep her eyes lubricated.
Although she experienced improvement in her physical symptoms, she still suffers from significant emotional, psychological, and cognitive deficits.  Even two and a half years after the incident, she told our TBI accident lawyer that she is not the same person she was before the accident. 
Both her mom and her sister point out that she has great difficulties making decisions and worries obsessively. One of the other major changes that both her mom and sister have noticed is how easily she now becomes angry and frustrated. Her mom says that while she has always been opinionated, but before the accident she was patient and had tact.  Now, however, she frustrates easily with other people and is often impatient and less tactful.
LONG TERM ISSUES AFTER TBI BRAIN INJURY
Prior to the incident, she was always very active, enjoying softball, biking, golfing, and many other activities. Unfortunately, the physical and emotional strain of her brain injury has caused her a significant decrease in stamina, and normal everyday activities cause her great fatigue.  She often comes home from work and goes to her room for the night.  She is now basically capable of doing most of the physical activities she enjoyed before her injury. However, both her mother and sister told our best MN traumatic brain injury lawyers that she constantly complains about being tired and generally is much more sedentary than she was before the accident.
She also continues to suffer from occasional memory lapses and difficulties with cognitive function, which affects her everyday life and work activities. Our traumatic brain injury attorney MN learned from her doctors that she complained of cognitive difficulties, having trouble spelling, and occasional stuttering.  She also complained of difficulty with short-term memory and concentration, as well as difficulties falling asleep and staying asleep.
EXPERIENCED BRAIN INJURY ATTORNEYS
Pam Rochlin and David Rochlin are Minnesota personal injury attorneys with more than 25 years' experience, successfully handling hundreds of motorcycle and car accident injury cases throughout MN, including brain injury / TBI cases. Pam was the 2014-2015 president of Minnesota Women Lawyers Association and is a former partner at Meshbesher & Spence, now providing small firm attention to her clients.
Our brain injury lawyers in Minnesota can meet with you to discuss to discuss your case at our offices in Edina, Woodbury and Minneapolis MN.  A TBI attorney can meet people at their homes to discuss brain injury accidents in St. Paul MN, Rogers MN, Elk River, Maple Grove, Brooklyn Park MN, Chanhassen, Chaska, and other cities throughout Minnesota. We will always provide you with a free initial consultation and we never charge anything unless we are successful in getting compensation for you and your family.