CAR ACCIDENT WITH TRUCK INJURY LAWYER MN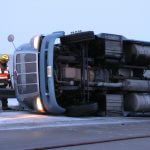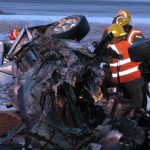 Here is a case that arose out of a Minnesota collision between two semi-tractor-trailers, handled by a top car/truck accident attorney in our office. Just prior to the collision, our client was operating his semi-tractor-trailer.  He was traveling in the right lane of eastbound Highway I90 near Luverne, MN.  The other driver was operating a semi-tractor-trailer, also driving eastbound on Highway I90 and was an unknown distance behind our client.
Prior to the crash between the two trucks, a car that was traveling westbound on I90 lost control of its vehicle, crossed the center median and entered the eastbound I90 lanes.   The car was heading at an angle towards the rear of our client's semi-tractor-trailer and our client hoped that the SUV would just miss hitting his trailer.  Unfortunately, the SUV struck the rear portion of our client's trailer.  The force of the impact pushed his semi-tractor onto its side on the edge of the roadway.
TRUCK HIT CAR THEN HIT ANOTHER TRUCK
After our client's truck tipped over and came to a rest, he unbuckled, got out of his seat, and then pulled himself up to look out the driver's window.  Not seeing anything, he dropped to the bottom (actually the passenger door because his truck was on its side) and reached for his cell phone and dialed 911 to alert the MN State Patrol.  He was only able to speak a few words before his stopped truck was struck in the rear by the other semi traveling eastbound on Highway I90, which had also just struck the SUV that was stopped in the highway.  The other truck driver said he did not see our client's semi-tractor-trailer before striking it.
When our semi truck accident lawyer took the deposition of the semi driver, here are a few of the things the truck driver told us about his employer:
Q. When you were hired or going through the application process with Liberty Hardwoods, did they ask you anything about the drug screening indication on the application?
A. No. It was not a problem.
Q. They didn't ask you at all?
A. They asked me about it and they said it was no problem. It was no big deal.
Q. Anything else that they talked to you about in terms of instructing you on the truck?
A.  Just be careful.
Q. All right.  Anything other than that?
A.  Not really, no.  If we had any questions, they said, just ask…
UNTRAINED TRUCK DRIVER CAUSED ACCIDENT
In other words, the semi-truck driver basically received no driver's training and was just allowed onto the road with this huge truck, driving among the much smaller cars. The truck driver did say he received what he called a "safety book," which was the safety policy provided by the company in response to our Request for Documents.  He testified that after reviewing this "safety policy" after being hired in 2001, he never reviewed the Safety policy again:  "I don't think that I ever needed to because I've never done anything that they needed to correct me on."  Notably, only one page of the Safety Policy discusses "driver safety."
EXPERIENCED LAWYERS WHEN TRUCK HIT CAR
Out best MN truck accident lawyers have seen many cases like this where the trucking company and driver ignore rules and training for large semis and other trucks, just letting them on the roads without concern for the danger to other vehicles.
Furthermore, our semi truck accident lawyer discovered that the truck driver's employer did not provide any instruction on the "Driver Safety" section of the Safety policy.  For example, the employer didn't give any instruction on the traffic laws for each state that the semi driver would be driving in as it related to his job: "I was expected to do that." They also did not instruct him on what were "safe driving habits" as referenced in the safety policy:
Q. And then it also talked about, you're expected to obey and drive within all safe driving habits. Did your employer ever explain to you what they meant by "safe driving habits?"
A. No.            The driver's log books from before the truck crash were produced in discovery on this serious injury case. Many of the logs did not have complete information listed – some are missing the actual dates, most are missing the odometer readings, and most are missing the total mileage. This is something that our attorneys find often in car truck accidents in MN. This neglect of safety instruction for a truck driver can result in serious injury when the truck fails to drive properly and hits a car.
SERIOUS INJURY FROM CAR ACCIDENT WITH TRUCK
Our client was traumatically injured in this semi truck crash.  He will never be able to work again as a truck driver, and he was only 50 years old at the time of the accident. The crash was caused by the inattentive driving of the other truck driver, and the poor safety instructions of the driver's employer.  Our best semi-truck accident attorney handled that case and was able to get significant compensation for our client to pay his medical bills, lost wages and more.
If you are injured in an accident by a semi truck that hit your car, call and speak to one of our top MN car/truck accident lawyers for a free consultation.  Our attorneys have successfully represented people injured in automobile semi truck crash cases throughout MN.  We have 25 years' experience representing people injured because of over-tired or distracted truck drivers that cause a crash on the highway. Pam Rochlin is a former partner at Meshbesher and Spence, providing personal attention to truck crash victims. We never charge anything unless you receive compensation for your injuries.