BICYCLIST INJURED OR KILLED AFTER A TRUCK DRIVER TURNED INTO HIS PATH
WCCO reported a tragic accident when a semi-trailer was making a right turn on a red light from 12th Street North onto Linden Avenue, in downtown Minneapolis.  The intersection has a bicycle lane. Unfortunately, the truck and bike collided while the truck was making its turn. It is not yet known if the cyclist was attempting to pass through the intersection, turn, or was stopped at the moment of impact.
When the truck made its turn in front of the bike, the bike ran into it. The bicyclist was an adult. He was declared dead at the scene. The truck driver was cooperating with Minneapolis Police, and was said not to be impaired. The Minnesota State Patrol is also assisting in the investigation. A police spokesman tells the Star Tribune surveillance video from the area will also be accessed to determine how the bike accident happened.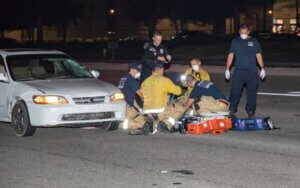 An October report from the National Highway Traffic Safety Administration found that, while deaths from vehicle crashes decreased from 2017 to 2018, pedestrian and bicyclist deaths are on the rise. There were 857 documented bicyclist fatalities, a 6 percent increase year-over-year and the highest total since 1990. Since 2009, the number of cyclist deaths in "urban areas" has risen by 49 percent.
EXPERIENCED BIKE ACCIDENT ATTORNEYS
Our lawyers have represented many bicycle and motorcycle riders hit by a car or truck. We have seen many accidents where the car or truck changed lanes or made a turn into someone riding their bike. These bike accidents often result in serious injuries.  If you have been injured in a bike accident because a truck or driver turned in front of you, call us to speak with an experienced bike accident injury lawyer. The initial consultation is free, and we never charge anything unless you receive compensation. We will we advise you of your rights and make sure your interests are protected.