COMPENSATION FOR BIKE RIDER HIT BY CAR
We have been getting more calls of bike riders being hit by cars. That, of course, correlates with the fact that there are more bikers on the road.  Riding a bicycle for transportation is great for your health and the environment, not to mention your pocketbook.  However, when a bike shares the road with a car or truck, there is risk to the biker. Unfortunately, many drivers are distracted while driving.
Many of the cases our lawyers handle, where a person riding a bike gets hit by a car, result in serious injuries.  Wearing a helmet and good gear can help. However, when a heavy vehicle is traveling relatively fast and hits a bike, the rider is often thrown and hits the car and/or ground hard. This often results in a broken bone or bones.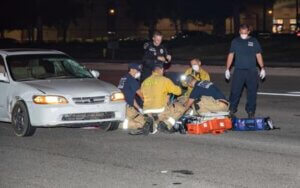 AUTO INSURANCE FOR BICYCLE ACCIDENT INJURY
If you are hit by a car while riding your bike, you are automatically entitled to at least some compensation to help with the medical bills and reimbursement for time you miss from work. In Minnesota, every automobile is required by law to have No-Fault insurance. This auto insurance will cover you in any situation where you and injured by a car – even when you are on your bike.  Your own auto insurance will provide No-Fault coverage of at least $20,000 in medical bills and $20,000 if you are hit by a car while you are riding your bike.
If you don't own a vehicle of your own, the No-Fault coverage of any family member you live with will cover you for your bike/car accident.  And if you don't own a car or live with a family member who owns a car, the auto insurance of the driver that hit you will pay your No-Fault benefits. You will get these benefits even if the insurance company disputes that their driver was at fault for hitting you.
In addition, if the driver of the car that hit you was at fault for causing the collision, you can receive compensation for medical bills beyond $20,000, plus pain and suffering.
If you have been hit by a car while riding your bicycle anywhere in Minnesota, call us and speak with a lawyer for a free consultation. We have more than 25 years' experience representing people injured in accident throughout MN. Our lawyers will make sure you get the compensation you are entitled to.