BICYCLE ACCIDENTS MN INJURY ATTORNEYS
Bicycle riding has becoming increasing popular over the last 10 years.  In fact, more trails and designated bike lanes are being developed in Minnesota all the time. However, as the number of bicycle riders has increased over the last few years, our lawyers have also noticed an increase in injury cases.  Most of these cases are from people riding a bike getting hit by a car or truck.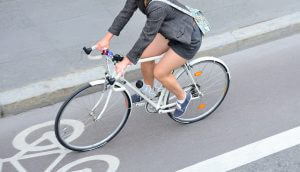 BICYCLE RIDING LAWS FOR ROADS AND STREETS – MN LAWYER
In general, the same laws apply to a bicycle rider as apply to a car or motorcycle. For example, the law requires a bike rider to stop at a stop sign just like any other vehicle. However, the law also requires the bicycle rider to ride close to the right hand curb or edge of the roadway (assuming there is no designated bike lane), unless making a left turn at an intersection.
In many bicycle accident cases where the bike rider is hit by a car, the insurance company for the car will dispute fault.  They often argue that the bike rider was in the road improperly or moved in front of the car at the last second.  Fortunately, in most of the bike accident cases our lawyers have worked on, there have been witnesses. The witnesses usually will stay at the scene to tell the police what really happened. This helps us recover compensation for our injured client.
PEDESTRIAN HIT BY BICYCLE ON SIDEWALK OR TRAIL – ATTORNEYS
Our bike accident attorneys have also handled cases where someone walking on a sidewalk or trail is hit from behind by a bicycle. Some cities prohibit bikes from riding on a sidewalk.  Where the city does allow the bicycle to ride on a sidewalk, the law requires the bike rider to yield the right of way to any person walking. The bike rider must also give an audible signal before overtaking or passing the pedestrian.
These bike accident cases where a pedestrian is hit from behind can be difficult.  The bike rider usually claims the walker moved in front of them or did not respond to their signal.  Again, it is very helpful when our injury lawyer can get access to a witness who saw the accident or was walking with the injured pedestrian.
MEDICAL INSURANCE COVERAGE FOR BIKE ACCIDENT INJURY IN MINNESOTA
Most people are surprised to learn that No-Fault auto insurance will apply to a bike accident. When you are hit by a car and injured while riding your bicycle in MN, your auto insurance will pay your medical bills and wage loss regardless of who was at fault. If you are injured in a bike accident, a top lawyer from our office will explain this to you in more detail.  If you do not have access to auto insurance of your own, the car driver's insurance will pay your initial medical bills and wage loss. Again, this is regardless of who was at fault.
In addition, you may be entitled to additional compensation if the car driver was at fault in the accident with your bike. The primary focus of our bike accident lawyers is to get people full and fair compensation for their injury if they have been hit by a car or truck while riding their bicycle.
BICYCLE ACCIDENT LAWYER MN
Pam Rochlin and David Rochlin are Minnesota lawyers with over 25 years' experience successfully representing people injured in a bike accident.  We have offices in Edina, Minneapolis, St. Louis Park and Woodbury where you can meet a lawyer to discuss your bike accident case and get your questions answered.  Our attorneys can also come to your house regarding your bicycle accident case in St. Paul, Brooklyn Center, Richfield, Maple Grove, Bloomington, and other cities throughout Minnesota.