BIKE RIDER HIT ON STREET BY CAR – MN INJURY LAWYERS
Bicycles on the street are very common in Minnesota.  We, as a state, encourage bike riding for exercise and enjoyment. Most people driving cars understand they need to share the road with bikes. However, that also means it is very important not to be driving distracted where you know bike riders can be on the street.
Our personal injury lawyers have represented many people injured in a bike accident when a car hit them on the street. Sadly, we have had a number of cases involving a child hit by a car while riding their bike in front of their house. This has even happened just leaving their driveway getting onto the street. The insurance company for the car will often say it is the bike rider's fault for riding into the street. But when it is a child, the level of responsibility is different. If a car driver knows they are in a residential area with children on bikes, they need to slow down and watch out.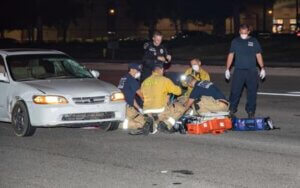 Many of our bike accident cases involve a bike rider on the road when a car doesn't stop for a stop sign. Or, the car made a turn just as a bike was passing in front of it. Sometimes those cases happen because of driver distraction, like a cell phone or texting. But even more often, its just because the driver of the car looked one direction but then did not look the other direction before moving forward. The bike rider on the street could not have anticipated the accident because the car wasn't moving when the bike passed in front of it.
BICYCLE ACCIDENT INJURY ATTORNEYS
If you have been injured because a car hit you while you were bike riding on the street or a road, call us for a free consultation with a top rated Minnesota attorney. Our lawyers handle bike accident cases in Minneapolis, St. Paul, and throughout MN. We will investigate your bike accident case, answer your questions, and make sure your rights are protected. The primary focus of our attorneys is to make sure you are fully compensated for your injuries.