COMPENSATION FOR CHILD ON BICYCLE HIT BY CAR
It's a parent's nightmare. You teach your child how to ride a bicycle. You teach them to wear a helmet and be safe. Still, tragedy can strike at any time.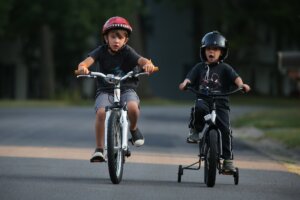 Our lawyers have represented many children hit by a car while riding their bicycle. Most of these cases happen on residential neighboorhood roads. Of course, most happen in the summer. Therefore, drivers should be watching for children on the street.
CHILD'S MEDICAL BILLS AFTER BIKE ACCIDENT
If your child is hit by a car while riding their bike, they have certain rights. First, they are entitled to have medical bills paid even before determining who was at fault. The initial medical bills, up to $20,000, will be paid by your automobile insurance. This is part of the Minnesota No-Fault system and it won't make your insurance rates go up.
After your No-Fault coverage is exhausted, additional medical bills will be paid by the child's health insurance. If the driver of the car was at fault, the driver's insurance will eventually reimburse the health insurer.
FUTURE NEEDS AND PAIN AND SUFFERING
In most of our cases, there are more concerns than just the initial medical bills. A child's injuries from a bike accident can affect them for the rest of their lives. Future treatment may be needed. In many cases, there is scarring or permanent physical limitations. All of these require compensation.
If your child was on a bicycle and hit by a car, call us to speak with a lawyer. Our lawyers have more than 25 years' experience representing children and their families throughout Minnesota. The initial consultation is free. We will meet you at our office or your home anywhere in Minnesota. Further, we work on a contingency. That means there is no upfront charge and no fee ever unless you child receives compensation.