RIDING BICYCLE CAR TURNED IN FRONT OF ME INJURY LAWYERS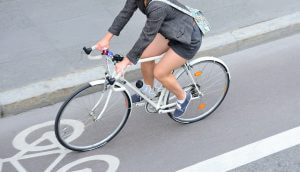 MN has 10,000 lakes, and even more bike trails. Biking continues to grow more popular every year.  There are also more and more bikes using the streets, often in bike lines. Unfortunately, car drivers often are not paying attention and looking out for bikes on the road.
Our bicycle accident injury attorneys have represented many people injured in a bike accident. Most of our cases involve a car hitting a bicycle.  However, we also have had several cases where the car turns in front of the bike and the rider falls from trying to avoid the collision.
MEDICAL BILLS AFTER BIKE ACCIDENT
If a car cuts off your bike, and you are injured because you fell, you have several possible ways to get your medical bills paid. First, the car the turned in front of you may be responsible.  In that case, the driver's insurance may cover your medical bills from the bike accident. Also, if you or a family member you live with has an insured vehicle, you will be able to access that No-Fault auto insurance for your medical bills and lost wages. The insurance issues do get complicated, but that is something a lawyer can help you with.
LAWYERS FOR BIKE ACCIDENT INJURY MN
Pam Rochlin and David Rochlin are top Minnesota personal injury attorneys. Bike accidents can result in serious injuries. The primary focus of our lawyers is to make sure our clients get the compensation they are entitled to.  This includes medical bills, lost wages, future medical needs, and other compensation. When you call our office, you will be connected to a lawyer who will provide you with a free consultation. We will answer your questions and explain your rights. Most importantly, we never charge anything upfront, and nothing unless you receive compensation.