INJURED IN BICYCLE ACCIDENT HIT BY CAR – WHO PAYS MEDICAL BILLS?
Every spring, our accident lawyers start getting calls from people hit by a car while riding a bicycle.  We have had quite a few serious injury cases because of bike accidents.
The first question our lawyers are asked is who will pay the medical bills after a bike accident where their bicycle was hit by a car? In most cases, the answer is the auto insurance of the bike rider pays the bike rider's medical bills.  That seems surprising since the bike rider was on his bike, not in a car. However, that is how No-Fault law works in Minnesota.  Even more surprising is that if the bike rider doesn't own a car, the medical bills from the bike accident will be paid first by the auto insurance of a relative (parent/sibling) the bike rider lives with – even if the car that hit the bike is completely at fault.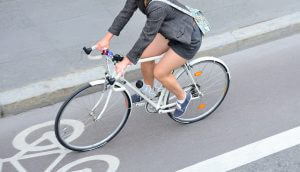 This does not mean the driver of the car that hit the bicycle gets off Scott free. If the car was at fault hitting a person on the bike, their auto insurance has to pay medical bills and lost wages that exceed the No-Fault coverage. Plus, there will be additional compensation for the pain and suffering that was caused to the bike rider. This can be important because many bicycle accidents result in serious injuries.
LAWYERS FOR BICYCLE ACCIDENT INJURY
If you or a family member are injured because a car hit you while you were riding your bike in MN, call us and speak with an attorney for a free consultation. Pam Rochlin and David Rochlin have more than 25 years' experience representing hundreds of people injured in car and bike accidents throughout Minnesota. We will explain your rights to you and make sure you get all of the compensation you are entitled to. We never charge anything unless you receive compensation for your injuries.